I was elated beyond belief for what was to come on my second day in Paris! I booked a train ticket to Reims, the center of Champagne, France.  Since it was only a forty minute high speed train ride from Paris, I thought a day trip would suffice. That day started out super early at 7:00am. I had to catch a metro to take me to the station where I get on board the 8:30am train to Reims. Here's a tip: try to buy this ticket as soon as you know you're going. The trip books up pretty fast and the prices go up the closer you are to the date. The train time options also become limited. 
  This train goes fast I felt like I was on the cusp of travelling through time. It's only my second time flying through landscape this fast. I was still getting used to it. After a while though, Marty Mcfly had nothing on me.
  My train arrived in Reims at 9:20 am.  I was oozing with excitement.  I was in the heart of where they made Champagne! All around me were people who know what they were doing or where they were going. So I stepped aside from the stampede and took a minute to decide what I wanted to do. My tour reservation for the house of Pommery Champagne wasn't until 10:30 am. I decided to walk around for a bit.  I crossed the street from the train station and walked the promenade.  It was lined with bars, stores and you guessed it- bistros with lots and lots of wicker chairs and small circle tables outside facing the street. It was cute but touristy.  Even at 9:30 in the morning, I could tell this is where most of the action happened where tourists flock.  Once I walked a few blocks away from the train station, that's when the town really shines.  It's a small little town with narrow roads for cars but the architectural detail was similar to that of Paris. It maybe even older.  Some buildings reminded me more of a northern European influences that Parisian.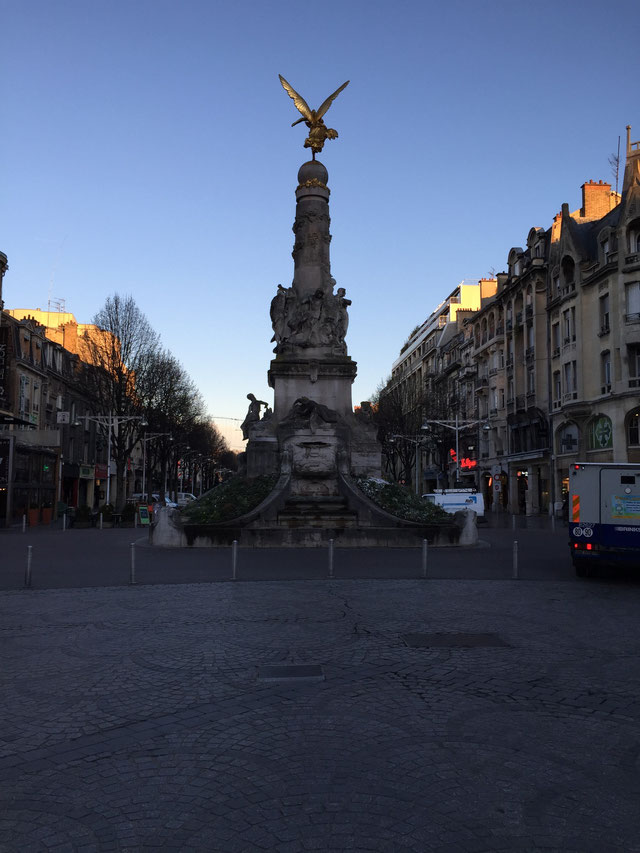 My train arrived in Reims at 9:20 am. I was oozing with excitement. I was in the heart of where they made Champagne! When I was getting off the train, I expected to be around people who were excited and happy to be there. Instead, I was surrounded by commuters who were probably going from Paris to their day jobs in Reims. They were on a mission. They wanted to go from point A to point B and I was in their way. So I stepped aside from the stampede and let everybody pass by. My tour reservation for the house of Pommery Champagne wasn't until 10:30 am. I decided to walk around for a bit.  I crossed the street from the train station and walked the promenade. It was lined with bars, stores and you guessed it - bistros with lots and lots of wicker chairs and small circle tables outside facing the street. It was cute.  And even though it was 9:30 in the morning and everything was still closed, I could still tell this is where most of the action happened when tourists flock. Once I walked a few blocks away from the train station, that's when the town's character really shines. It's a little town with narrow roads and architectural detail reminiscent of that in Paris. I also noticed specific details that reminded me of a Northwestern European influence.  The city of Reims is pretty close to Belgium.  Building after building, I saw a mixture of Parisian and Belgian influences.
  And then I saw the Notre Dame de Reims.  How could anyone miss it?  It seemed like every street I was walking, the towers were watching over me like the Eye of Mordor from Lord of the Rings! I got to the open space where the cathedral was located and I was shocked to be the only one there. But then again, it was 9:30 am. The doors were closed and it seemed like they were renovating the facade.  But the grandeur of it all was a sight to see! I think it might even be bigger than the one in Paris. I took advantage of my solitude and snapped away with my iPhone. It was early in the morning and I didn't get a full night's sleep so my selfies look tired.  Oh well, Photoshop it is! And I guess I was having a great time taking photos cuz when I looked at my phone, it was just about 20 minutes before my Pommery champagne cellar tour. Coincidentally, a cab stopped at the intersection I was on.  I hopped in and we dashed towards the House of Pommery. It was about a 10 minute ride from the train station. I could've walked it but it was 40 degrees outside and I was pressed for time.
  Note to self: always have cash handy anywhere in Europe. They do not take credit cards in taxi cabs like they do in New York City. The first time I found that out was in London and I was so shocked, I thought the driver was messing with me. Then I realized I looked like that guy, that American guy, who can't fathom a world outside of credit card enabled taxi cabs.
  Once there, I was thrown off by the facilities.  There was a castle on the left side and a stone building on the right with this huge double doors.  The outside had a pastel palette with blue as the major color.  Going up the driveway, the grass was lined with blue pine trees.  I guess I didn't have to ponder too much about what their house color is.
 I was hesitant for the cab driver to leave me at that point because I was still not sure this was a winery.  It looked like a Medieval Times Dinner and Tournament way in the west suburbs of Chicago off of the i290. And I wasn't planning on wearing a paper crown while eating a huge turkey leg and watching knights on horses joust. But, like any endeavors that I've faced in the past, I'm just gonna have to trust that I am smart enough to book the right place, and that people are intrinsically good wherever I am in the world. I opened the door and the first thing that came to my head was, thank God I was right about my taxi cab driver.  Whew!
 I walked in and the place was empty. The front desk had two people working. The one who greeted me couldn't find my reservation. My heart skipped a beat for a sec but then I realized how obvious it was that the tour wasn't sold out. I was prepared to pay the 24 euros again if need be. The second person behind the desk thought it was sketchy so she looked for it and found it. Another lesson learned. Don't secede so quickly just because of not wanting to ruffle anyone's feathers. When it comes to my money, I should be more proactive about where it goes.
  I was 15 minutes early so I got my ticket, went through the turnstile and observed all the things that are in the waiting room. There are huge wooden caskets everywhere, some couches and a random life size elephant model hanging upside down from the ceiling.  I still had several minutes before the tour started so I sat down on one of the couches and dozed off. I didn't know I could sleep with my head up.  At least that's what I thought.  You never know.  My head might have been thrown back and my mouth wide open drooling.
  I got woken up when they finally told everyone that the English language tour was about to begin. There were three other people in my tour group. Two Australian guys and an Austrian lady. When we were ready, our tour guide opened these blue wooden double doors which revealed a passage way going down 40 meters through an eerie and dimly lit 116 step staircase. Man was I jumping out of my skin from all the excitement. This is some historic shit!  I was walking down the steps and felt like I was visiting some crypt. When we got down to the bottom. It was chilly, dark and there was this sound which could only be described as strong winds blowing through a hollow space. It was like there was a banshee waiting to greet us.  It was eerie. I asked our tour guide where the hole might be.  He said the sound I'm hearing is a recording. Ha!  I fell for it. Well, on their behalf, it was effective for setting the mood. The hallways went on for miles; 11 miles in fact. I still can't wrap my head over the fact that it is 11 miles long. Of course, we didn't really trek the whole 11 miles. The tour was only an hour. However, it went on and on like the information the guide was feeding our brains. There were so many interesting facts about the House of Pommery I was gonna have a hard time retaining a lot of it. I know about the process of the methode champenoise but the specific names of the artists whose art decorated the hallways of her cellars, I wasn't gonna be able to remember unless I had my recorder app on.  Instead, I decided to enjoy the tour for what it was and be in the moment. Sorry guys. For what it's worth, they were amazing artwork and I enjoyed all of it for you. I took pictures but some were too dark to even figure out. 
What I did remember however was that the House of Pommery catered to the palettes of English aristocracy. The English liked their wines dry. The houses of Champagne thought it was ludacris to make a dry Champagne. To me it sounded like it was more a form of pride. The French has been making Champagne forever, why would they change the way they do things to satisfy somebody else.  It's not like they know what they are talking about. Louise Pommery went against all critics and made dry champagne marketable to the English.  It became a hit.  They started selling thousands of these bottles overseas.  And thank God for that!  If the English palette didn't evolve, Champagne wouldn't have changed and we would still be drinking really sweet Champagne. Talk about having a major headache the day after every New Year's Eve party.
 We also got to see all the bottles in the hallways that were going through the aging process.  At first, it seemed like all these bottles were lined up for aesthetic purposes. Why would they let these bottles be exposed to tourists everyday? But then he started talking about the numbers labeled for each section defining how long they've been in the process or what kind of grapes they have. So I guess I just have to trust that these dusty bottles would be safe. Our guide also showed us bottles that were in the riddling process. Riddling is the stage when they put bottles in wooden apparati to keep the bottles 75 degrees upside down. It gets the dead yeast to gather at the neck of the bottle. Everyday, workers turn the bottle 1/8 of a turn to concentrate the yeast. Which gets them ready for the next process of disgorging.
  Other things I saw were the different sizes of bottles they offered at the House of Pommery.  They went from half bottles to what they call Solomons which is 24 bottles of Champagne.  From my recollection, they don't produce bottles bigger than that anymore unless it was made specially to order.
  Finally, we were at the best part of the tour! After ascending the 116 steps that we encountered at the beginning of the tour, it was time to taste some of the products. They led us to a tasting room with a bar and explained the different champagnes we could taste. I chose to contrast and compare two different products, a brut and a blanc de noir. Both of them were divine! The Brut which in Champagne terms means dry was great.  I like a crisp Champagne with just a little floral hint.  The Blanc de noir had really fine bubbles and was very smooth, which I liked as well. The Austrian lady that I made friends with during the tour had to leave early. She decided to give me her rose champagne. So needless to say, I had a great and happy time walking through the streets of Reims afterwards.  Which was perfect because I had a couple of hours before my train came to whisk my back to Paris.
The original plan was to visit another Champagne house to contrast and compare but I missed the beginning of the Taittinger tour by 15 minutes. The next tour would've been after my train was to pick me so I decided to forego the other house. In retrospect, I should've stayed and payed the extra money to leave later in the day. You live and you learn I guess. But all in all, I had a great time.  Walking back to the center of Reims was beautiful. A little rain set the mood for an overcast day surrounded by ancient buildings and homes; Great for photo ops. I had a smoked salmon sandwich at the local bistro with, of course, a glass of champagne to wash it down and called it a day.  And away I went back to Paris.  If I could give anyone advice on taking a day trip to Champagne, I would say spend the whole day so the day doesn't feel pressured to stick to a schedule. After all, it is the happiest place on earth where dreams come true, so why not stay a while.