When people found out I was going to Puerto Rico, a good chunk of them kept saying that I should go to Old San Juan.  I just nodded and smiled.  Having been raised in the Phillippines, I've seen my fair share of old Spanish inspired architecture and fortresses since it was a Spanish colony for over 300 years.  But my friend Timere and I had 4 hours before we would meet our group to check in so I decided why not?
  Being in an unfamiliar place, I'm always apprehensive.  I don't know what to expect so my guards were up.  But right of the bat, I met a lovely woman named Luz who spoke fluent English and was very knowledgeable of everything Puerto Rican.  She was so friendly, she even went out of her way to find us a taxi cab who was in turn as friendly as Luz was.  On our way to our destination, the driver pointed out the different landmarks that we passed by and the importance of them.  He even pointed out the outside basketball court that was named after Carmello Anthony.  Did you know he was Puerto Rican?  I didn't!  Did you know he's in the NBA?  Just kidding!  I knew that he's a pro player.... I think.  LOL!
  After several minutes, the roads started getting narrower and bumpier- bumpier because of the cobble stone roads.  And while observing the pastel colors of the neighborhood and the detailed wood of the second floor balconies, I knew we were in Old San Juan.
   We came across a van being unloaded and was obviously blocking the road.  The weird part about it was that the guy unloading was aware that there were cars waiting for him to finish but yet he seemed lacking in a sense of urgency.  The even weirder part about it was that our driver and the drivers behind us were waiting for him without honking.  Good Lord!  The New Yorker in me wanted to jump out of my seat and slam on that horn.  "What's the matter with you?"  But I was too busy learning a different culture.  Island life I tell ya!  Never ceases to amaze me.  So I smiled, waited and was humbled by their patience..
  Unfortunately, we couldn't find Las Palmas Restaurant so Timere and I decided to get out of the taxi and go to the nearest restaurant/bar called Ostra Cosa.  It had this open air concept with tables lining this great hallway. Some were eating. One guy was reading a book at a table which you could never do in the US unless you ordered something.  Life was just taking its time over here!  I love it! 
  One side of the bar lead to this quaint courtyard.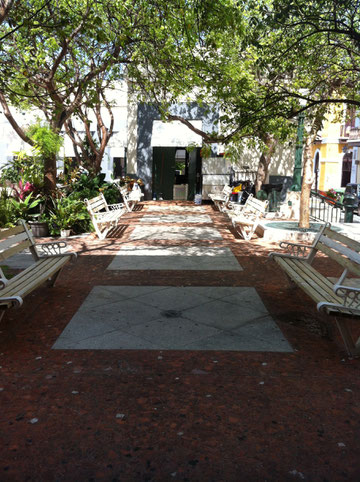 And on an adjacent side was this cool little bar with about 5 bar stools.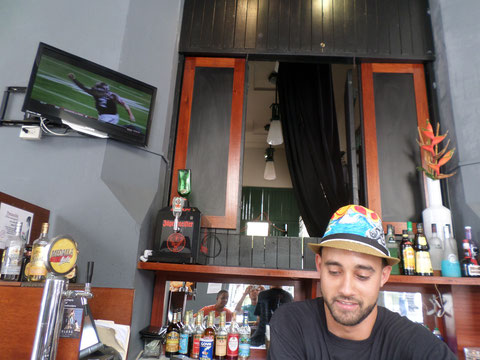 If you look, there are sliding windows on top of the top shelf where the food comes out of to be served to the tables.
  After seeing this space with loud salsa music playing in the background, we decided to plant our behinds at the bar to enjoy our first hour in Puerto Rico.  Plus we got to chat with Jonathan our bartender.  He was this friendly light-eyed proud Puerto Rican native with a great sense of style.  Look at his custom painted hat!.... OK!  I'm gonna stop sweatin' him now.... after I show you this picture. LOL!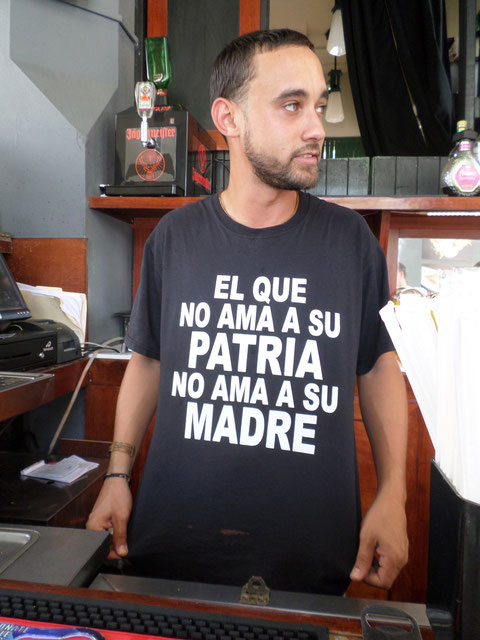 It means "He that doesn't love his country, doesn't love his mother.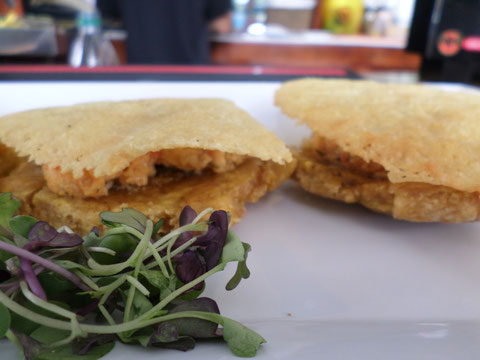 I ordered these pockets which I believe to be called arrepas.  I'm not gonna show you what Timere had.  I think she was trying to be healthy and ordered the sole which looked like boiled fish right next to a dry salad.  Hahahahaha!  I just put my friend on blast!!!!  Anyway, we had a "few" drinks.  We had Pina Coladas (which I found out were native to Puerto Rico) and might I say, they make it really well down here.  We also had a local beer called Medalla which is practically what I drank the whole vacation.  It's light and very fresh.
  But alas, after 'ahem' 2 drinks 'ahem,' it was time to meet up with my sister and her friends.  So we said goodbye to Jonathan and hailed a cab.  But I managed to take some shots of the neighborhood.  It is as beautiful as people say.  But I didn't fall in love with it until the next night!  Stay tuned;)!!!