I have to admit, I didn't think I was going to go back to Old San Juan.  But the girls suggested going to dinner there after our excursion through the mountains of El Yunque Forest.  I said "Why not?"  One, I left my charger in one of the outlets at Ostra Cosa and I might still find it there.  Two, we might get to talk to our bartender Jonathan again; none of which happened that night.  What did happen was my eyes opened up to the beauty of this old city.  The dim amber street lights combined with the cobble stone roads and building architecture transported me to a time when things where much simpler and love was easier to find.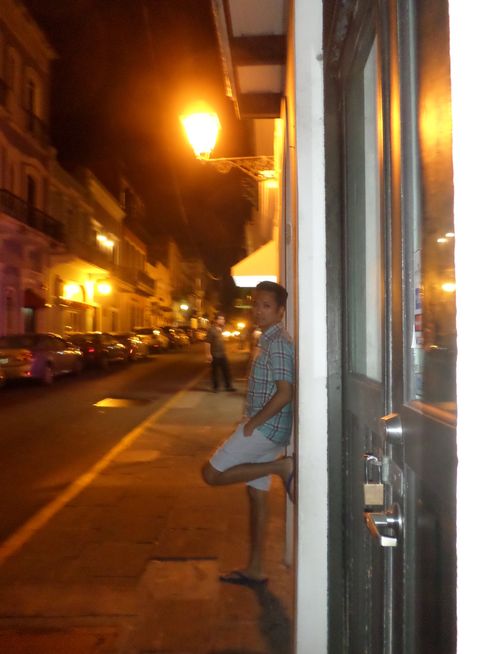 We decided to dine at Raices Restaurant.  It was highly recommended by Pat.  So off we went.  We dressed to impress island style.  No bow ties and trains were worn that night but we still looked good.  The employees wore traditional garb.  The ambiance was very Old San Juan.  And of course we had to take a picture with the hostess:)  I look like a creepy guy photobombing in the background. Don't I?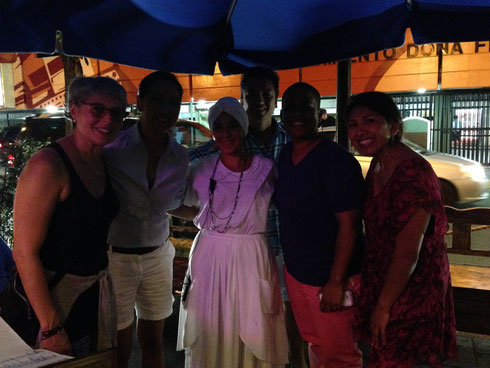 We thought there was going to be a long wait because we didn't have a reservation.  But our leisurely lounging outside in the nice evening weather was cut short since they had a table for us.  We had some amazing food.  We ordered the appetizer sampler and of course pina coladas to wash everything down.  I don't think I've ever drank that many pina coladas in my life.  But hey, when in Rome- I mean.... when in Old San Juan...... LOL!
  We had some really aesthetically pleasing main courses.  My sister Azzel got the "Big Pork Chop" which is technically not a chop cut but what do I know.  It was still huge.  And if you know me, I love me some pig.  So needless to say, I was eating hers as well as mine.  Liz had a vegetarian mofungo which was also very impressive.  The best part of the night was the laughs and happy stories we shared through our dining experience; including the part where I excused myself to go to the bathroom.  As I stood up, Pat and Timere stopped talking and had this confused look on their faces.  Their gaze was directed towards my navel area.  I think two tables near us also noticed.  As I look down to where they were looking, I realized that the last two buttons of my shirt was exposing my stomach area.  I looked up and abruptly said "I'll explain later!"  George Costanza style and exited stage left.  Everybody was laughing so hard!  Afterwards, I explained that I was wearing a shirt that was 50% linen and 50% cotton and I didn't want it to wrinkle while I was sitting down, so I unbuttoned the last two.  It's not because I'm a glutton and I was gonna bust out.  In fact, I've been doing a lot of cardio and eating right before the trip so I was pretty happy with my body image.  But man, if that scene was recorded, I would've kept replaying it over and over.  It was hilarious!
  After dinner, I suggested we go salsa dancing/ or go to a salsa bar and watch people dance salsa.  And one bar keeps coming up when I ask the locals where to go: Nuyo Rican Cafe!  I was excited!  If locals keep suggesting this place, then this must be the hottest spot in Old San Juan.  We got directions to go there but in Puerto Rico, people don't necessarily use street names.  Most of the time they will say a specific landmark that the street is on.  For example, they would say "when you see a green bench on the corner, make a right."  In turn, it made it hard to find our destination.  I did, however, get to take pictures of this beautiful town.
  After getting lost for 30 minutes (partially voluntary), we finally discovered Nuyo Rican Cafe via smart phone.  It was in a very narrow cobblestone road off of a main street.  One would think that their venue would bring more people to it if it was on a main road, but I guess it works. From the looks of it, they like it hidden.  Besides, it's kinda cool finding the locals' secret hangout.  Hehe! 
  When we walked in and my eyes got used to the darkness, I was surrounded by distressed dark wood everywhere.  I felt like I was in a different era.  Immediately I fell in love.  I love stuff like this.  It looked like it was built 8 decades ago.  Of course we went straight to the bar for some drinks.  I bought a round of Patron tequila shots to start out the adventure.  And as I looked around, I saw some congos, drums, and some guitars on the stage.  YES!!!!  Somebody is gonna perform live.  We just have to wait patiently!  Sometimes, in a really small venue like this, bands just play organically when they want to.  But for the record, I love music; even better if it was live music.  There will always be a section where I talk about local bands or local live music in my blog.  Luckily, we didn't have to wait that long.  These guys are called Los Realengos, and the minute they started playing, some kind of magic permeated the room.  Oh right!  It's called music!;)  But I got chills!  I was listening to salsa music in a respected local bar in old San Juan, in Puerto Rico; one of the origins of this famous genre.  I haven't loved a good cow bell since Janet Jackson's Black Cat from her fourth studio album Rhythm Nation 1814.  But enough about dating myself LOL!  Here's the band Los Realengos.  I swear!  I'll buy a better night time camera because the audio doesn't reflect the live version at all.  But for now, this will do.  And do check their music out.  I swear you won't be disappointed.  And without further ado......
  I would love to show you the dancers.  Man! Were they amazing!?!!  But alas!  It was too dark for my camera.  I did however get to record the congo drums player.  What an inspiration!  This kind of hapiness and confidence is what I strive for; living his dream and being happy.  Check out his enthusiasm.  He is gettin' it! 
Which brings me to my point.  The sexiness of this town lies not only in its architecture, but in the confidence and pride of the people that live there.  Thanks for the lesson Old San Juan!  Until next time!
A-train