There is something so therapeutic about being fully immersed in a large body of water.  It's like the USB cable that syncs me to the earth.  And everytime I do it,  I am fully rejuvinated and in tune with the world around me.  And our third day in Puerto Rico was the day I got to do a lot of that. 
  I made reservations for us to go on a catamaran and snorkel for a good chunk of the day.  I was so excited!!! 
  Our day was early.  We had to be at the pier in Fajardo at 9:00 am.  We had a 40 min-1 hr drive from Condado so I was awake by 7:00 am.  Some people in our group were awake at 6:30 am.  Yes, they are a little craycray, buy I think they were just excited.  After some coffee, we got in our trusty ol' rental car with the hard breaks and drove to the pier.  The realization didn't really hit me until I saw our boat.  And what a glorious boat she was!  Her name was The Traveler.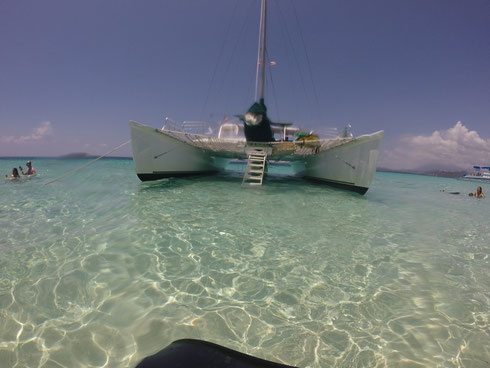 Of course that photo was taken during the excursion.  But I wanted to showcase it's beauty.
  After waiting for several late shipmates, we finally got to go on board.  As the ship peeled away from the pier, an overwhelming sense of euphoria just took over me.  The cool wind hit my face as I gazed upon miles and miles of blue water.  For a second there, I thought the lines and knots on my forehead disappeared like I was a younger version of myself and I was looking at the sea for the very first time.  Alas, they're still there, ahem, but it was the feeling that counts.  Haha!
  Our 15 minute ride to our first destination was filled with catching up on how much fun we were having so far, listening to some tunes through the boat speakers and just enjoying the amazing scenery.  And right as we were pulling up to Icacos Island, our first stop, we all noticed the drastic difference in color between the deep sea and the shallow beach.  There was no shading.  It went from deep blue immediately to this crystal baby blue.  Imagine a U.S. marine jacket right next to a Tiffany's jewelry box.  It's that extreme.  And when I saw that, my jaw dropped.  I have never seen anything like it.  I think you can kind of see it from these photos.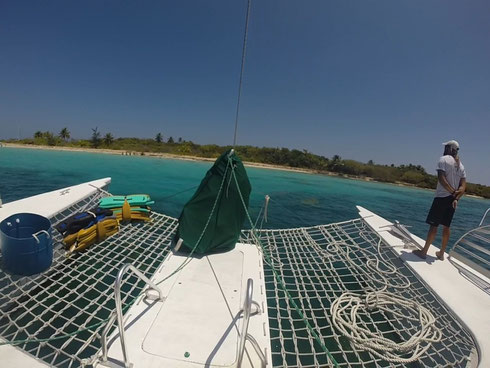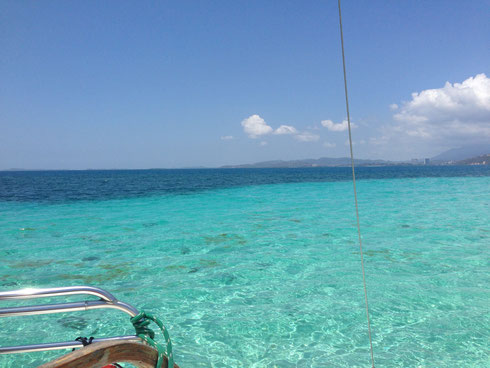 It reaffirms my belief that no matter how much negative energy is in anyone's life, it is all so minute compared to the beauty of this world.  Needless to say, I was ready to submerge myself.  After a few instructions from the captain, everybody started diving in.  When I got in, a spent a few minutes by myself to acclimate.  I noticed a school of fish almost the color of the sand to camouflage them from predators.  But what was more obvious was the defeaning silence underwater.  Coming from New York, silence always seems so foreign and takes some time to get used to.  It was just me.  For a good few minutes, it was just me.  Then my mind started adhering to the 15 mph speed limit in Icacos Island.  She was whispering "Relax!  Take a load off!  You're here now!"  And that's what I did all day.  I listened to the silence and I let the crystal blue water engulf my heart with a big hug.
  We were having so much fun, I couldn't wipe the smile off my face.
  Liz, Pat and I veered away from the beach and visited the corals just 30 feet away.  My sister Azzel and Timere stayed in shallow waters.  My sister had a pseudo drowning issue when we were young.  From what she tells us, we were in a swimming pool in a country club near Paranaque, Philippines.  She started calling for help because she started drowning.  I remember my Aunt Ning diving into the pool to save her.  But then as the story goes, she said that she stood up and everything was fine before my aunt got to her.  No matter how jovial she tells the story, I know that it's kept her from really swimming. 
  Timere, has never done anything like this.  In fact, I've never really hung out with her near water so I asked her if she can swim.  And I tried to be geniune and keep a straight face.  But then she turned it around and said "Oh, because I'm black you gotta ask me if I could swim?"  Which got me busting at the seams with laughter!!!!  A month ago, she was nervous about doing it when I asked her if she wanted to snorkel.  She said, "with a prayer, I can do it!"  I was just concerned about my friend so I asked if she could swim, just in case I had to pull  out my hero mask when the sea floor opened up and I had to save her from the Kraken!  That's all!  LOL!  Needless to say, they stayed near the beach!
  After an hour of snorkeling around Icacos Island, lunch was served.  The crew of the ship provided us with some really good sandwiches.  I was impressed.  I thought I had to climb a coconut tree on Icacos Island 'Survivor: Palawan' style to get us some nourishment to last us for the trip!  And you know I would've done it.....   I think.
  With full stomachs and a few more minutes to walk around the island, we deanchored and made our way to our main destination which was open water.  Even I was a little anxious.  I have not swam in open water since I was 10 years old so I know, Azzel and Timere were shitting their swimsuits. 
  With a few more instructions from the captain, including not going beyond a certain point or we would be in the Dominican Republic territory where pirates live (#notfunny), we were free to swim around the front of the Traveler.  This was it!  Pat, Liz and I were ready to dive in.  And I think, without too much of a hesitation, both Azzel and Timere decided to take advantage of an opportunity that might not come back any time soon.  Plus, the trip was almost $100 per person.  I would've given them a push if need be.  What?  I didn't want them to waist their money;)
  The temperature was great, the water was clear, I'm surrounded by friends and there were fish everywhere.  The girls put on bouys for safety reasons.  My ankles were tired from using my flippers so I did as well.
  We saw so many fish!  Angel, the first mate gave us some bread to feed the fish.  Being from a first world country, I thought of what the concequences are by feeding these fish with non-organic bread that wasn't part of their diet. Then, I had to get over myself.  LOL!  It ain't that serious..... We saw a baracuda!  That thing is creepy.  It swims so slow compared to the other fish.  I think somebody boasted that they saw a sting ray.  I never saw it!  We also saw seagulls trying to fight for the bread.  So there were seagulls trying to get to the bread from above and fish trying to get to the bread from underwater.  Good Lord!  Talk about GMO's!!!  Monsanto is killin' it in the wild!... Literally!
  I also got to see Timere let go of her fears!  When she got in, she realized it was more amazing than frightening.  Plus, she was wearing two bouys so I know she wasn't gonna sink any time soon.  My sister on the other hand was having some issues. I saw her friend Pat and Liz trying to fix her mask.  I was confident they were going to solve whatever problem was plaguing my sister.  So I focused on the fish.  15 minutes later, I see her sitting on the bottom of the stairs of the boat trying to fix it again.  So I swim to her and she tells me that the water keeps going into her goggles.  It was keeping her from enjoying the experience.  I suggested for her to tighten the strings and she said she's already done that.  As a last effort, I offered my goggles to her.  We switched goggles and mine perfectly kept the water from getting into her eyes.  And she was on her way!  In retrospect, that was one of the best parts of the trip for me.  You see, my younger sister is a very independent and strong woman who lives in a different state than I do.  Not to mention, she's kind of a know-it-all!  Shhh!  Don't tell her I told you that!  So I don't really get to act like a big brother often now that we're adults.  Her original goggles were faulty, but it was okay on my face.  And even if the water did keep getting into my eyes, I wouldn't have switched them for the world.  Just seeing my little sister work past through a bad childhood experience and open her eyes to new things was worth all the drops of water in my eyes. #PRICELESS
  We were out there for about an hour.  I think.  After seeing most of the fish and the coral reefs for a good 40 minutes, there's really nothing else to see.  So most of the group started boarding back up on the catamaran including me.  If I remember correctly, I think Azzel and Timere stayed for a bit longer.  Now you can't even pry them off the water if you wanted.  I, on the other hand, was ready for some drinks which the boat crew was offering after snorkeling.  I found out later on that it was open bar!  SCORE!!!  I drank Pina Coladas for the rest of the day.  Done and done!
  Once everybody had their fill of the ocean, we all just started drinking and enjoying the boat ride.  Everybody was loosening up and talking to each other.  Meeting new people is part of what this vacation was all about.  Or any vacation for that matter.  We met a guy that just came back from a 3 year stint in Afghanistan.  He was accompanied by his wife who's never been outside the United States.  What an amazing back story.  We hung out with them for the rest of the time.  I also met two Australian guys, but they were more on the reserved side.  And of course, how do you take advantage of a perfect day on a catamaran sailing around?  Why, a photo op of course!!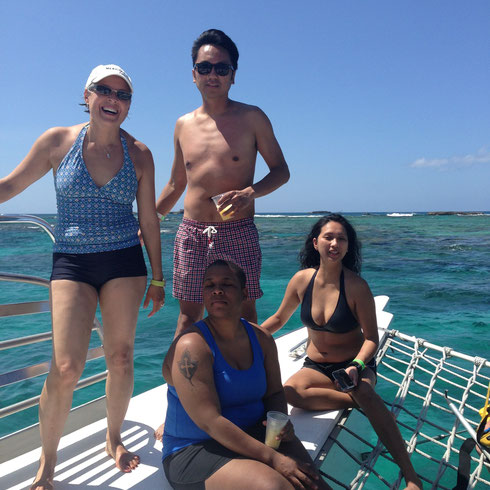 Sadly, the day had to end.  But I leave with a heart as crystal blue as the waters of Icacos Island.  Sometimes, I almost don't want an event to start because I know I'm never going to want it to end.  But if I said that about every great thing that has happened in my life, I would have nothing.  So, here's to the day ending!  Here's to everyone having fun!  Here's to Timere conquering her fear!  Here's to Azzel breaking boundaries!  And here's to me feeling like a big brother again even for just a few fleeting moments.  Because even though I know that she's got her life in Chicago and I'm searching for mine in New York, it was always and will be forever me and her against the world!