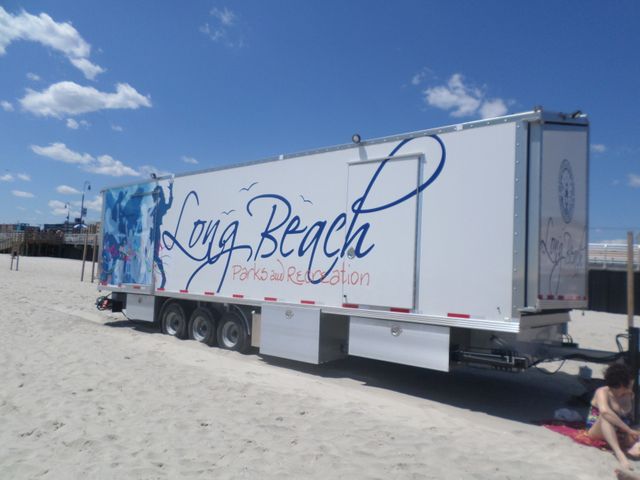 I have no real big plans of leaving New York this summer.  But the wanderlust kicks in all the time so I guess my solution to it is to visit a different beach within a 3 hour vicinity every weekend and write about it.
  My friend Emily called me after her trip to Italy/Istanbul and told me she had a week left on her stint in New York and that she was moving back to Wisconsin.  She said she wanted to hang out.  First I told her nobody likes a quitter.  But if she felt that it was time, I told her that she could come with me to Long Beach this past saturday to hang out.  She hesitated and made some excuse about having not enought time to pack.  In the end, she said yes.  I don't know what gingers have against the sun.  I'm just throwin' that out there;)
  It was the 4th of July the night before so we didn't want to go way too early the next day. We ended up taking the 11:20am Long Island Railroad from the Atlantic station in Brooklyn going to Long Beach.  Hint:  Buy the package deal for the train ride and beach pass at $22.00.  You'll save $3.00. 
  I'm not exaggerating when I say this.  Everybody and their momma was in that train.  I'm surprised Emily and I found two seats together; a bonus so we can catch up on her trip across the pond.  It also made the trip feel shorter that it was.  The trip takes about an hour which includes a transfer at the Jamaica stop with a 10 minute wait.  It's not that bad considering people that live in Astoria Queens takes about the same amount of time to get below 14th street.  Haha!  Yes, that was a dig Astorians.
  When we arrived in Long Beach, a whole swarm of people came out of the train and was hustling to get to the beach; probably to mark their territory.  Emily has never been before so this is new to her.  When we left the station, she thought Long Beach looked like a town in Southern California.  After assessing what she saw.  I kind of agree.  The streets were very spacious.  There's a huge shopping center with parking spaces everywhere and little shops and restaurants lining the main street of Park ave.
  While everybody was in a rush to go to the beach, we decided to eat first.  And since there was a World Cup game going on, we decided to eat al fresco at The Park Sports Bar and Grill.  First things first; margaritas!!!  Then we ordered some food deciding that we'd rather not eat it at the beach and have sand as part of our diet.  Emily ordered chicken quesadillas and I had the chicken ceasar wrap.  The highlight of the day was right when we were waiting for our food at a table outside, this porche with neon green piping casually parked right in front of us.  It looked liked something out of the Transformers franchise.  The driver was a frail 60 year old man with huge sunglasses.  The passenger was a female in her 40s with a really tight bleach blonde braid dressed in a white corset cinched so tight her eyes were popping out, neon blue skinny slacks and wedged shoes. 
  Sidenote: Ok ladies.  Don't all of you jump my throat all at the same time.  But I hate wedged shoes.  They're a copout and look like moon boots. Just an opinion so please keep reading my blog:)
  They sat next to our table outside and kept it cool when kids of all ages took pictures and selfies with the car right in front of them.  The scene was so random, but it kept us hella entertained!
  Alas, it was time to go to our destination.  We walked through the neighborhood and noticed the big and beautiful houses; things that are hard to come by in the city.  I wonder how much these cost?  Maybe I can save up for it.  LOL!
 And just like that, we were laying out on the beach.  I haven't been to this beach in 2 years.  It was before hurricane Sandy hit the east coast.  What they have done to the place has been very impressive.  From what I heard, the boardwalk was a total disaster and couldn't be repaired.  The beaches were ruined.  But when I walked onto the boardwalk, I couldn't help but ask "what hurricane?"  This place looked so amazing like nothing ever happened.  In fact, it looks much better now than it did 2 years ago.  The boardwalk is fortified with cement and steel and the beaches look so clean.
  What a perfect day for the beach it was.  It was 80 degrees; not too hot but not cool either.  We ended up laying out for a bit.  I brought a volleyball and we bumped the ball back and forth.  We also dipped are feet in the water.  But that water was Andre 3000 ice cold!  So we decided not to immerse ourselves.  Of course what's a beach trip without checking out the lifeguards?  Not to mention there was a 2x2 beach volleyball tournament also going on.  And since we both love volleyball, we were pretty entertained while laying out.  We even forgot to turn over on our backs to even out the tan cuz we were so obsessed with watching the games in front of us.  But vanity trumps over everything and was forced to turn over.  LOL!
  After 4 hours, Emily started hinting that whenever I'm ready to go, she is.  I keep forgetting that she's a redhead and redheads burn easily under the sun almost as fast as vampires.  So after a 10 minute compromise.  We headed off.  I'm actually surprised she stayed out that long.  Big ups to my friend Emily for hangin' in there.
  As we were leaving the boardwalk, we saw people swinging from these trapezes.  Turns out, it's a school and little kids were learning to go upside down and swing to the teacher so the teacher can catch them.  They looked so professional. No thanks for me though.  I'm sorta scared of heights.  But if you are daring enough, you can find the schedule on their website at www.iflytrapeze.com.  They apparently do birthdays to corporate private events.  Check them out.
  We looked up the departures for the train and found out that we have about an hour and a half before it heads to New York City.  So we both came up with this great idea to go for happy hour.  Hehe!  We made our last stop at Corazon de Cuba.  A restaurant specializing in Spanish and Cuban cuisine.  We ordered some beers and an appetizer sampler called Picadera Cubana.  The corn on the cob was out of this world.  The wings were excellent and how can you go wrong with empanadas.  Check them out the next time you're in Long Beach. www.corazondecubany.com.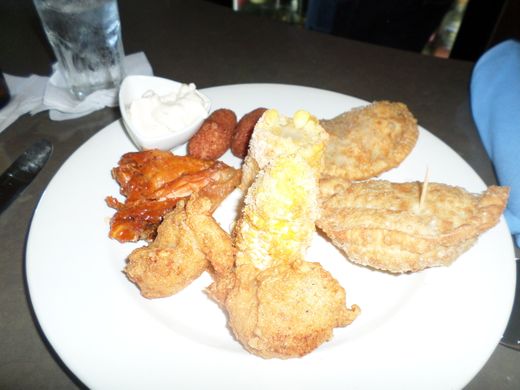 I wish we had more time cuz I would've loved to try their Ropa Vieja or my favorite that my Aunt Naomi makes, Paella!  But after drinking, eating and watching one of the semi finals for the World Cup for an hour, it was time to go.  What an amazing day it was to be able to share it with a dear friend.  Thanks Emily for coming along.
  If you guys get a chance, check out Long Beach.  One of my favorite beaches in the New York area!
Till next time,
A-train