Growing up in Chicago and then living in Los Angeles for nine years, finding Filipino communities weren't hard to find.  Fitting in with people with similar upbringings and interests was an arms length away and satisfying my cravings for Filipino food was easy.  I guess it's safe to say that if you're in a big city, Filipino culture is prevalent.  So why is it that it took me five years to be comfortable talking about my knowledge of anything Filipino in New York City?  Well, for one, I hardly saw any Filipinos in Manhattan.  Not until I joined a volleyball league did I meet a good amount of Filipinos.  Filipinos and volleyball go together like peanut butter and jelly.  #truth.  And things Filipino in the city are either hard to find or way out in the boroughs.  So here's a several helpful hints if you're a new Filipino in New York City.
1. Asia Market Corp.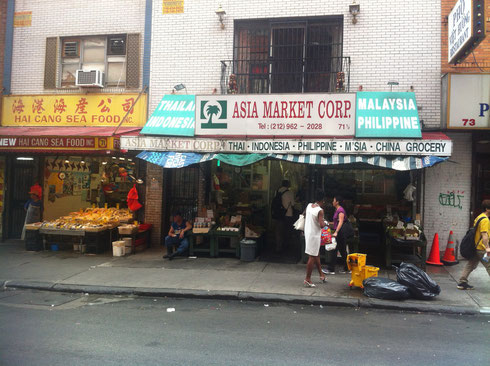 It sits in the heart of Chinatown on 71 Mulberry st south of Canal st.  Keep your eyes peeled.  The streets are naroow and the signs kind of all blend together.  If you're craving Filipino staples, then this is the place for you.  They have Mang Tomas, spicy and sweet banana ketchup and sinigang mix within the first isle.  And when you turn on the other side, they have jars and jars of halo-halo mix.  They also have junk food made in the Philippines like Chippy and Shrimp chips.  Probably not the best thing for you and I, but sometimes I just have to satisfy the cravings.  The best part is the freezer isle.  They have sweet/spicy longanisa, tocino and even fish balls.  I remember fish ball carts passing by the house I grew up in Manila and getting so excited because they are so good.  I buy them sometimes even though I can't cook them properly since I have to deep fry them.  But I refuse to waste that much oil so I'm satisfied with sauteeing them.
2.  Whole Foods Tribeca

  I know what you are saying.  This place is so far away from Filipino.  It's bougie, yuppy; and what could possibly be in here that is Filipino?  First, you can be a bougie, yuppy Filipino.  Everybody is welcome!:)  And I admit, it can get pretty pricey.  But I think with a little patience and observation, you can leave out the door and feel good that your wallet didn't get violated.  Now, back to the subject.  If you're Filipino, I'm sure you crave pork belly more than once in a while.  And if you have a neighborhood butcher that carries pork belly all the time then kudos to you.  For us less fortunate enought to have a neighborhood butcher, much less a neighborhood butcher that carries pork belly, then this place is for you.  This specific Whole Foods in Tribeca carries it All. Of. The. Time!  And you can rest assured that if this isn't organic, it's at least all natural.  Whole Foods prides themselves in organic/all-natural/free-range/unbleached/GMO free etc. etc.  OMG!  Sometimes, I surprise myself with this bougie talk.  But it's good for you.  It's better than not knowing where your food came from.  As much as Chinatown's butcher shops have extensive variety of meats and fish, you don't know where they came from.  Here's a plus.  Pork belly is cheaper than most cuts of meat in there.  I think it's because pork belly is still on the verge of trending.  You can see it in dishes in upsale-casual to fine dining establishments.  But for the most part, people still think it's exotic and don't know how to cook it at home.
  Another plus is that they carry Mungo or Mung beans.  They carry half-sprouted and unsprouted one.  The unsprouted ones are actually cheaper by the pound.  You ask why?  I don't know.  Why would you sell half-sprouted mung beans?  It must be for people with a raw food diet. (side eye)  I had this back home in Chicago this past weekend and there is nothing like a good Mung bean stew with pork belly in it!  Of course you can make it with fish or chicken, but were gonna stick with the focus here. Ha! It's a one stop shop!  And the friendliness of this specific Whole Foods is off the charts!  They can make you feel like you live in a 3,00 sq ft. loft in TriBeCa with a terrace on the top floor!  Sigh!
3.  Manhattan Filipino Restaurants
  I couldn't just pick one.  Picking one would be a disservice to this article.  The whole point is to spread the knowlege right?
  My first Filipino restaurant in Manhattan was Grill 21.  It's on 346 E 21st st.They advertise themselves as an Asian-American fusion restaurant.  But they really serve traditional Filipino food.  No fuss hearty comfort food.  It's this tiny hole in the wall restaurant with exposed brick and minimal seating.  My friend Khoi, who's Vietnamese, and I came here for the first time and almost ordered the whole restaurant.  We had Sisig, Lumpia, Sinigang, Sariwang Lumpia, among other things.  Everything was so good.  Too bad we didn't have room for dessert cuz that Halo-halo looked so good!  Don't be shocked by the bill though.  It is in Manhattan, and to keep the place floating above water, they have to have Manhattan prices.  With that said, it's still cheaper than the average Manhattan restaurant.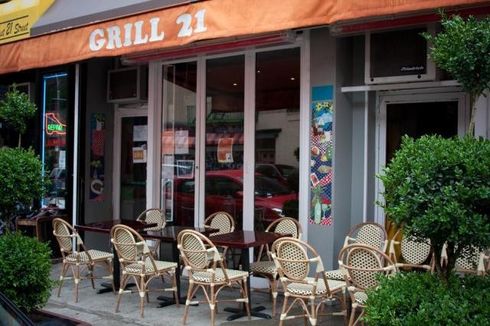 The other restaurant I wanted to talk about was Maharlika.  It's on 111 1st ave. on 7th st.  Fairly newer, they opened in January 2011.  And they've gotten rave reviews since they've opened.  This place has fusion for sure while keeping a lot of the traditional dishes  My first impression of the place was that the decor was not as minimalistic as Grill 21.  It seemed like the thought behind it was to appeal to a wider audience and introduce Filipino food to people who have never heard or had it.  Truth be told, I only saw a splattering of Filipinos in the restaurant.  I came here for the first time two years ago and I ordered a cocktail to start. My Korean friend I was with ordered a cranberry juice.  The drinks came and I said "Cranberry juice?  What are you pregnant?"  I picked up my drink and took a sip.  Then I looked at her and made eye contact and almost choked and dropped my glass.  I felt like I was in an Asian version of Gossip Girl!
  Anyway, dishes range from Spam Fries (don't knock it till you try it) to Flipp'D Chicken and Ube waffles ( it was so damn good) to a very aesthetically pleasing, well plated kare-kare.  I wasn't used to how long the lumpia were but hey, I didn't complain.  The longer the better.  Needless to say, Maharlika presents Filipino food to appeal to a city dweller.  Let's face it we're living in the "center of the universe!"  You have got to compete to survive.  And I think Maharlika is doin' a darn good job of it of keeping Filipino food present in New York city.
  There's a couple more worthy of mentioning.  Jeepney is Maharlika's sister restaurant just a few blocks north on the same street at 201 1st ave.  They have weekly kamayan nights where guests eat without utensils and food is served in banana leaves.  Make sure you make a reservation for the Kamayan dinner.  The minimum is for four people and they have to know what to cook before hand so you can't just walk in and ask for the Kamayan dinner.  They have a nice backyard as well with tables and benches. It's cute with a the greenery around.
  There's also a fairly new snack bar called Lumpia Shack.  You can find them on 50 Greenwich ave.  The first Filipino restaurant I know based in the west side of Manhattan.  They focus on using different flavors and mixing it with the traditional and very popular spring rolls.  What's cool about them is that they support local farmers and strive to provide customers with food that is free from hormones, pesticides and anti-biotics.  They also have a stand at Smorgasburg in Williamsburg on Satursdays at East River State Park and on Sundays at Brooklyn Bridge Park Pier 5.  I had their special for the day the Adobo lumpia.  It was excellent.  The key for a Filipino trying these different flavors of lumpia is to keep the traditional expectations for restaurants in Woodside.  LOL!  Which is my next topic.
4. Woodside

   It is a town in the Queens borough of New York City where one can get anything Filipino.  You can get there from Manhattan by taking the 7 train going into Queens and get off on the 61st. st. or 69th. st stations.  I'm telling you, sometimes I feel like my head is going to spin around and explode because of all the things I want to try but don't have enough time.  So if you're gonna go, try to give yourself some time because it takes a good 30 minutes to get there, plus, you're gonna want to explore it.  It's a Filipino haven.  There are Filipinos everywhere and you can even speak in Tagalog to a stranger.  Ok, I might be exaggerating a little bit.  But this is the most Filipinos I've seen in New York.
  Ihawan is supposedly the best restaurant there, but for some reason I always go on Wedesdays and they are always closed on Wednesdays.  Let me know how it is if you go.  On the same block, I have been to Renee's.  I somehow order like I'm never gonna have Filipino food ever again because I am so full I could feel my stomach stretching out and when I leave I have so many boxes of food that could last me for a week.  On the corner is Krytal's.  It's a restaurant that has a pastry section.  I had their ginataang manok there and it was AMAZING!  You should also check out Jolibee.  The only one in New York.  It was trippy when I went in because I haven't been in one since I was 12 in Manila.  Still same good old fashion Filipino fast food.  How can you go wrong with sweet spaghetti and fried chicken in your value meal?  And don't forget to go to Red Robin.  A popular Filipino pastry store.  The amount of ensaymada and mamon I took back home to Brooklyn  was insane.  You should probably bring an empty  bag with you if your gonna go.  They also serve lunch here.  I think I saw their menu and they were serving dinuguan.  If I wasn't so stuffed from Jolibee, I would've sat down and tried their version of the traditional blood stew.  So if you have time from your fast busy life in the city, trek yourself on to Woodside and get a taste of home.
5.  Here Lies Love
  You can't visit New York, much less live here and not show your support for Filipinos in the entertainment business.  And this musical about the life of Imelda Marcos is just the way to do that.  Written by David Byrnes and Fatboy Slim, it's an upbeat piece that can stand with the best of them.  The music mixes pop, hip hop, rock and intertwines it with musical theatre.  The main floor is standing room only.  It gives the show the freedom to morph the stage and venue. You're basically gonna get a 360 degree view.  This also gives the audience the freedom to stretch out and dance.  There are no bad seats in the house.  Even if the show sold out on the main floor, the box seats on the second floor still get great views of everything.  The whole cast was amazing.  Some of those women in the ensemble had solos and were tearing the house down with their voices.  But I have to single out Ruthie Ann Miles who plays the lead role. She is a phenomenal actress.  She made me empathize for a woman that had a reputation that preceded her.  Another mention goes out to the dj Kelvin Moon Loh.  He got to sing a song close to the end of the show and blew my mind away with how beautiful his voice is.  And for any of you that lived through these events depicted in this show like I did, it will bring back memories, if not emotions of a time when our beloved country was going through major changes.  I could still remember the jetfighters flying really low over my grandmother's house.  So when Natalie Cortez, who plays Ninoy Aquino's mom, raised her right hand to show the laban sign, I almost lost it.
Please see this show.  You'll dance.  You may tear up.  But you won't regret it.
And if you have any suggestions or if I might have left out something, I welcome your thoughts in the comment box.  Thank you!
A-train