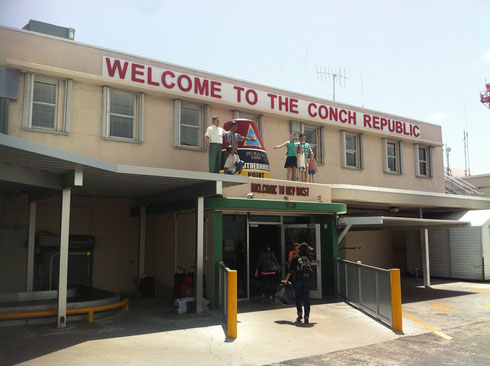 Now I know what you're gonna say,  going on vacation is much more fun with other people.  I get it.  Activities are hard to do alone.  Snorkeling is sketchy by myself.  As much as I might be with other people, they don't know me.  God forbid we all get in trouble in the water, guess who they're gonna save first?  The people they came with!  Parasailing would just be weird with someone I don't know behind me or in front of me.  Buy me a drink first woulda? But hear me out.  It just makes sense that before I go on a European tour or a Southeast Asian tour for months at a time by myself, I should test my survival skills somewhere far but not foreign.  Besides, I've been meaning to go to Key West for a decade now.  Ten years later to the week, I finally got to go; my own Oprah full circle moment.
  I arrived in Key West on an early Saturday afternoon on a non-stop flight: a tidbit most people thought was hard to believe since Key West has a small airport.  That's right kids!  Daddy knows how to do it up!  No hassle of having to land in Miami or Atlanta to change planes.  The minute I walked out of that airplane, I felt invigorated from the 85 degree humid weather.  The current summer in New york has been very mild; reminiscent of early Fall weather.  And if you all know me, I would follow the endless summer if I could like my cousin.  But I think I'm several pennies away from that.  One day I guess.  But for now, I gotta take care of business.  I needed heat in my life.  So I went to the southernmost city on the mainland of the United States.
  I was gonna save some money and choose a cheaper hotel or GASP, stay at a hostel!!  Don't get me wrong, hostels are perfect if you're travelling to different cities and countries and you want to spend the bulk of your money on dining or sightseeing.  It's also a great way to meet people.  But I wanted to get some R&R.  I even thought of getting a room at one of the big chain hotels.  My friend Scott suggested La Concha Resort.  It is a Crowne Plaza hotel.  The pictures on their website looked great.  I even heard the rooftop pool was amazing.  In the end, I wanted something less modern and had more character.  I like boutique hotels.  If I had a choice, I wouldn't want to stay at a place with over 200+ rooms.
  I checked in to the Simonton Court Hotel.  It was laid out like cottages on a brick walk way with 1 big pool and 3 smaller pools that were accessible to any of the guests.  The cottages were built in the island style of old school shutters and paneling similar to the ones  I've seen in Puerto Rico.  In fact, most of the houses in Key West had this same style.  I'm guessing it is probably prevalent in most Carribean islands.
 The room they gave me was all white but gave a sense of warmth with the distressed antique bedside cabinets and some stylized lamps to finish the look.  I looked up and I saw a vaulted ceiling anchored by a dark wood ceiling fan which gave me this old school island rustic feel.  The bed looked fluffy and inviting.  I almost got in it but I had to stay focused.  it was perfect weather outside and gosh darn it, I was going to take advantage of it. 
  Besides my travel partner Timere flaking on me on this trip, the main reason I went to Key West by myself was to test my comfort level going somewhere alone.  I am confident in saying that I am a social person.  I'm pretty good at meeting new people.  But as much as I was excited about what was in store for me that weekend, my anxiety about people's perception of me travelling alone was still high.  I used to be an outsider growing up and as much as I'm a totally diferrent person now, knowing that I was still prevails in the back of my head.  But before this post turns into my therapy session, I realized I was worrying myself to death about nothing; classic A-train.  The kicker here was that everywhere I went, people admired me for going at it alone.  It started the minute I walked out of my hotel room door.  I had a few hours before the first thing on my itinerary so I went to the big pool where everybody was hanging out.  Right off the bat, I started meeting people from different parts of the country and beyond.  I spent the next few hours dipping in the pool, laying out and conversing with some new friends.  Someone even offered me a glass of champagne.  How could anyone turn that down?
  The hours pass by and it was time for me to go to the pier, board a catamaran and watch the sunset on the ocean.  I chose this specific trip from Furycat.com because they had live music on the boat.  I've always thought that music brought people together.  It's a great way to start a conversation and meet new friends.  If not, the focus will be on the band and I can enjoy the sunset by myself if need be.  I take a shower and I'm off.  Luckily, the pier was just 3 blocks away.  It's amusing.  No matter how much research I do or imagine the vicinity of an area, it will never be exactly how I depicted it in my head.
  I walk up the plank for this 40 foot catamaran at 6pm in 90 degree weather.  I guess it didn't matter that I took a shower because I was drenched with sweat 15 minutes later.  But hey, that's what I asked for that New York wasn't giving me this year.  The anxiety returned right before we sailed off.  I'm by myself.  Everybody was with at least one other person.  Why did I do this?  What am I trying to prove?  "Keep calm and stay cool!"  I said to myself and somehow, after some taking a deep breath, I kept myself composed.  It was getting hot in the sun.  I needed some shade under the catamaran but all the seats were taken, except for this one seat on an L shaped boothe where three older ladies sat.  Perfect!  Older women love me!  I made my way over and asked if the seat was taken.  They said no.  It took less than 3 seconds of flashing my pearly whites before formal introductions were exchanged.  Anne, Renee, and Vicky are from South Carolina.  Anne and Renee used to work together and Vicky is Anne's hairdresser.  They were on a girls trip and left their husbands at home.  I tell ya, southern women are so friendly and polite.  On top of that, they were so entertaining, I didn't feel the need to meet anyone else.  Plus there was really no one cute I was interested on the boat!  Shhh!  That's between us;) 
  After we pulled away from the pier, drinks were served.  They had draft beers, margaritas and wine.  I opted for a margarita.  They made it in batches in plastic pitchers with ice so by the time they poured mine in a glass, the margarita was watered down.  Nonetheless, I leave no wounded soldiers behind.  I finished my drink and moved on to wine.  Beer would be too filling at this point.  They had white, red and rose.  But down in Florida, they call it Chablis, Burgundy and Blush respectively.  I could've sworn this was one of the more expensive and well reviewed sunset sailing trips.   I guess when in Rome, do what the Romans do and leave the bougieness for some other time.  It's summer time so I opted for a glass of... Blush.  Not long after, they started serving food at the buffet table.  The selection was really good.  They had a meat and cheese plate.  They also had hush puppies, and good ole southern fried chicken.  How could you go wrong with any of that.  The ladies decided to get in line for food.  Vicky forgot her bag on the boothe so I mentioned it before she got too far.  She said it was safe because I was there........  Is she crazy?
  When I travel somewhere, my guards will always be up!  I can't help it.  Nobody is stealing my wallet.  Nobody is going to clock me behind my head.  Nobody will put drugs in my drink.  Homie don't play that!  My momma taught me better than that!  But it is so refreshing that after several minutes of talking to me, this lady was willing to trust that I will keep her bag safe; that I don't have to prove that I'm an honest man.  Plus, it's not like I'm gonna go anywhere.  I might be a good swimmer but the shore is a long trek and  🎶I've been drinkin'  I've been drinkin.🎵 And everybody knows drinking and swimming don't mix well.
  The ladies got their food and came back.  I decided to take a few pictures of the pier and the horizon before the sunset.  I came back and the line got shorter so I went to go get some food.  After a good several minutes, we were all ready to enjoy the outside of the boat.  Luckily the sun wasn't as harsh and the wind picked up.  And the next thing you know, the band started playing.  I LOVE LIVE MUSIC!.... may it be the opera, a salsa band, Beyonce, even the banjo player on the Bedford station on the L train.  What did they play you ask?  Country music.  Surprise surprise!  I forgot that I was still in the south even if I was on an island.  Most people who know me know that I am not the biggest fan of country music.  But how could my spirits be down?  The weather was perfect contrary to previous weather forecasts.  The food was great and the drinks were doing their job.  Needless to say, I enjoyed myself.  In fact, they started playing songs I knew.  They played some Stevie Wonder songs,  And they also played some college bar songs.  You know..... The ones everybody drunkenly sings to at the top of their lungs when it comes on at a college bar; Sweet Caroline, Sweet Home Alabama and etc.  Everybody knows these songs because they are simple, catchy and not too high.  Of course, when Brown Eyed Girl came on and nobody was dancing, I started dancing and got my ladies to dance with me.  After that, everybody followed suit and filled up the dance floor.  People just need a little nudge to have some fun.  Sometimes, they are so concerned of what other people might think of them dancing when they really shouldn't give a crap.  An excellent advice I've applied on other parts of the trip.  But it also helps that I'm a well trained and experienced dancer;)
  A hundred sunset pictures and a 2-hour band set later, we found ourselves close to our docking spot.  We were all ready to leave, but not before I got my bartender to put on a "My best friend's Filipino" shirt on and take a picture with me.  And of course it wouldn't have been much fun without the ladies.  I said my good byes to them.  They in turn told me that this whole sunset excursion was so much fun because of me!  I hardly did anything.  I know what a party needed and I just turnt it up;)  Nevertheless, it felt good that they said that.  No matter how minute the remnants of my past issues I still hold on to about being an outsider, the confident man that I am now will always come out on top.  Suddenly, travelling to a foreign country isn't as scary after all.  It helps that there are amazingly kind people still out there.  It was a pleasure meeting you Vicky, Anne and Renee!  And genuinely hope that we see each other soon.  Deuces for now though!
A-train
What did you think of A-train's first day in Key West?  Leave a comment if you are so inclined:)