My friend Mark and I arrived in Paris on the high speed train from London on the night of January 11th.  It was the night of the rally. My emotions were mixed. So many of my family and friends expressed their concerns for the tragedy that hit the city and my safety.  But it was also my first time immersing myself in the magic of Parisian culture.  I was torn. Should I roam the beautiful streets of Paris worry free and let my guard down?  Or should I pay my respects and empathize for something that was bigger than me?  Taking the cab to our hotel, I could hear the police sirens I've only heard in the movie the Bourne Identity. Every 3 minutes we heard one pass by. I felt like I just got away with killing an assasin!  When we checked into the hotel, the thought entered my mind.  It would be great to show my support for the thousands of people who are rallying against terrorism and join them in their chant. In retrospect, I'm kicking myself for not going. It would've been one of the most defining moments of my life!!!...... Did I have the right to go? Was it my battle to fight? I played it smart. It was my first night in a foreign city on somewhat of an alert. I didn't know the language. I didn't know the metro system. Hell, at that point, I only had $20.00,  £10.00 and no euros in my pocket. God forbid if the worst happened, the last thing I wanted to do was search for an ATM that I couldn't understand the buttons. I never went. I played it safe.  Being pummeled by a stampede if a gunshot was fired was not the way I wanted to start this leg of my trip.
  The next day, I decided to hit the big tourist spots with the awareness that the city was in mourning. I was a little iffy going around. But oddly enough, the train system wasn't hard. And I got to my first stop, the Eiffel Tower without any hassle. Well, except for the fact I didn't know the train doors didn't open automatically at the stop and I had to turn a knob. Nobody helped me. They just looked at me like there was something wrong with me. I figured it out eventually right before the train started moving. That, my friends, was one of the least smoothest acts the A-train has ever done. You're welcome patrons of the 4 train! I hope you guys got a good laugh! Needless to say, I was a little embarrassed. I shrugged it off though. I was never going to see those people again anyway.
  When I got out of the train station, I started looking at my gps (bad idea. My international data roaming ended up costing me a lot at the end of my two week trip).  I should've just looked up.  How could I miss it?  Well, when I did turn the corner, I finally looked up and MAN!  My jaw dropped! It was huge. I have seen the Eiffel Tower on tv.  And the one in Las Vegas looked like a decent size.  But then there I was, 100 feet away from this giant work of art.
  I came prepared.  I had my gopro hero 3+ silver edition selfie stick in my backpack ready to be taken out like a samurai sword.  I also had my iPhone 6 with an octopus tripod for hands free video and photos. I was about to hold my own photoshoot. You know how I love a good photo op! But then it struck me. I became a little hesitant. The last thing I want is to bombard the locals and visitors alike  with this avid flow of selfie picture taking. I realized not a minute later that everyone, I mean EVERYONE, was taking selfies.  They had their own gopros with their own selfie sticks.  Some of them even have blue tooth clickers for their iphones for hands free selfies. I was worried about embarrassing myself when everybody couldn't wait to take a picture of themselves.  It was selfie central!
  I took about 30 photos.  I think, or did I take 90? LOL! Then I started moving away from the Eiffel Tower and walking towards the other side. It turns out, the pathway I was walking was called Champ-de-Mars and was used as a military training ground back in the day.  Nowadays during the summer time when the grass is green, it turns into a park from the Eiffel tower all the way to this beautiful building called Ecole Militaire on the other side of the park where people plant themselves and have picnics or read a book on their break from work.  What a great background to relax in! 
  Right across the street from Ecole Militaire there were signs and offerings for the victims of the attack on Charlie Hebdo. Names were hand written on pieces of paper and flowers shared to commemorate the tragedy. I took the time to read each name and to offer a moment of condolences.
  After experiencing the intensity of the energy surrounding the sights I saw, I started feeling hungry.  It was lunch time!  And it was such a coincidence that one of the restaurants I was itching to visit was a couple of blocks from the Eiffel Tower.  So there I was, using up my international data roaming again to find the restaurant Au Bon Accueil acting like I was a contestant on the Amazing Race.  Trust me, this place was not hard to come by.  It's in the middle of a small street several blocks away from me.  I was reading my travel bible tripadvisor.com and found out that this restaurant had some great reviews.  Not only is it rated #51 out of over 13,000 restaurants in Paris, it is also somewhat affordable for the upscale French food they served; I'm talking white table cloth service and long white aprons and servers' noses pointed upwards.  And boy was my tasted buds taken to another level!  I have never tasted anything like it before.
  I walked in and was greeted with a shocked look. I was ready for it.  I've heard much about the air of Parisians and I was going to greet it back with a big smile.  They don't know what's going to hit them. Don't get me wrong, I'm not saying anybody was rude. Friendliness is just not a characteristic they begin with; at least that's what I got from my 5 day stay. Like I said, I'm fine with it. I came prepared.  

  I got a table for one. There was nobody in there except for a party of 3 on a business lunch. The server asked to take my jacket and I gladly obliged. He led me to my table and gave me a menu. It was a prefix menu that I could order a la carte from.  Me being me, I opted for the 3 course prefix. And since I couldn't type fast enough on my google translator (which again used up so much of my data roaming), I  just asked the server to pick the best thing from each course and put it in front of me.  I'm not a picky person. I will eat most everything. And if it is excellent, I'm not gonna care if it's rabbit. I also ordered a glass of Pouilly Fume to start. It is 100% sauvignon blanc from the region of Pouilly Fume. It's across the Loire river from Sancerre. I was excited. These wines I'm tasting didn't have to travel on a plane across the ocean which a lot of experts say lends to a much superior wine.
  When the first course came out, I felt like this restaurant strapped me into a roller coaster and said "Enjoy!" It was a joy ride of excitement in my mouth. It was a carpaccio. It was out. of. this. world!  I've never had a carpaccio with such balance of fat and meat. It was decadent. The toppings came with capers, some dill, radishes, baby red currants and something white that was grated and something yellow that was grated. I was confident the dish was pork. But when was the last time I ate a carpaccio made out of pig? I asked the "kind" server what it was. He said it was the meat of the face of veal. I was eating a young cow's face! Interesting! Impressive! I had a good 10 minutes before they brought the second course which is typical for an establishment of this caliber. They give their customers time to digest before the next course. One could also interpret that as giving me time to finish my first glass of wine so they can sell me a second one before the second course came. LOL!  Ha!  I'll bite! He gave me a syrah for my second course because I was having the beef. I couldn't tell you where it was from. The name was so complicated and unfamiliar to me that I just nodded. I have a fair amount of knowledge concerning French wine but I wouldn't consider myself a connoisseur. I wanted to take a picture of the label but I couldn't muster up the courage to not give a crap that I would be foreseen as a stereotype. So I composed myself. Ten minutes pass by and my second course arrived at my table. It was a piece of braised beef with this savory sauce topped with lentils and alongside was this poached endive sprinkled with cubes of ham and gruyere I'm assuming.  It was to. die. for!  The piece of beef was fall of the bone soft.  There wasn't a bone but you know what I'm getting at. I didn't need a steak knife. I was determined to eat all of it. The two servers ,who were the only employees I saw, kept hovering around just in case I needed anything. Partly because I think they didn't have anything else to do. They weren't obtrusive by any means but maybe they think I was gonna walk out without paying? I'm just kidding. First off, they have my jacket. Second, why would a tourist go out of the way to visit a place he researched just to not have enough money to pay for anything?
  After I finished, I waited another 10 minutes for the dessert to come. Which was kind of weird. The restaurant closed at 3pm and they still had the decency to let me take my time and enjoy my experience 15 minutes after closing. If this was New York, my dessert would've come on the heels of me finishing my main course. Haha! Sorry New York!  I just put you on blast. God knows I wasn't in a hurry though! When it did come, I was skeptical about it. I've tasted many a brioche in my time. I've had some excellent ones even if I'm not much of a dessert person. But when I put my fork to get a piece, I could feel how dense the bread was. And when I put it in my mouth, it was lighter and fluffier than I expected. This restaurant is messing with my senses! How could something so dense be so light? I tell ya, the French has it's way of preparing food that is of high caliber. I couldn't finish it.  I polished off everything that was on my plate for both previous courses that I simply couldn't fit anything else in. But by this time, my server has taken a liking to me and was rooting for me to finish the whole thing.  He said I could do it.  Well, I guess if he said so.  LOL!  Some encouragement always feels nice.  By the end of my dining experience and some conversation about French food and being American, I've won him over.  And after a few more minutes of talking about my plans in France, it was time to go.  I paid my bill and left the empty restaurant to close for 3 hours.
  With my belly full of good food and my spirits elated, it was time to head on over to the next tourist spot- Notre Dame de Paris. I took the Metro RER line to the Cathedral. In the train car, I realized I was running out of juice on my phone. Luckily, I had my charger on me. It was perfect timing. I could get my phone charged at a restaurant while I sit outside and have a glass of wine while people watching. Thankfully, Le Petit Pont, a bistro cafe just across the street from the Cathedral was in a busy enough street to enjoy what Parisians love to do. So I asked the server on the patio if she could charge my phone if I order a glass of wine.
  I could get in trouble in Paris. The wine is so cheap! I ordered a glass of Sancerre. It's another 100% sauvignon blanc but less dense than a Pouilly Fume. All of a sudden, my food coma hit me as you can see....... Hahaha!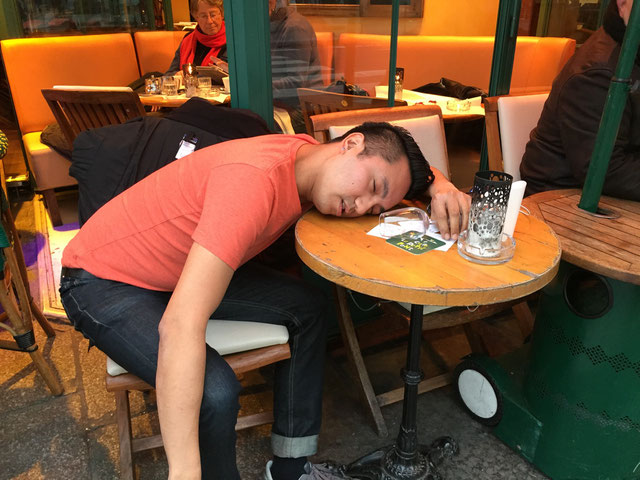 I couldn't help it.  The food at Au Bon Accueil was so good and the outside heat lamps were so hot I had to take a nap. I'm surprised they didn't throw me out on the streets.  LOL!  
  But in all reality, all staged photos aside, I had a couple of glasses of wine. The Sancerre wine here is so clean, crisp and dry just the way I like my Sancerre- chugable.  Hahaha! I couldn't recognize the house that made the wine, but I think it's safe to assume that a good majority of the wine in Paris is of excellent quality. And the price point is crazy affordable even if I was paying in Euros. From my recollection, the two glasses of wine I had was 6 euros each. 6 EUROS EACH!!!  A glass of Sancerre in New York will cost about $14 excluding tax and tip.
  40 minutes passed by and it was time to go. I wanted to catch the Cathedral with the last rays of light before the sun goes down. I asked for my phone, paid for my bill and crossed the street.
  Why do Parisians love everything big? They love over the top structures and intricate details. And the Notre Dame de Paris is no exception. I crossed the bridge and I had to take a moment. This church was majestic! I froze a good 15 seconds. I couldn't describe it any better. I felt really privileged to be standing there and witnessing a part of the French culture and the history of Christianity. I gathered myself together and took a final breathe and focused. I took so many pictures of this enchantingly beautiful behemoth. This is a priceless moment in my life!  I never thought I would ever travel the world. And there I was, facing another building I've only heard about and only saw pictures in books.
  I could hear the Cathedral beckoning me to come inside and spend some time in the house of the Lord.  I might not be the most religious person in the world, but my shoulders were getting brushed off bit by bit from everything I was carrying with every step I took towards the entrance.  As I approached the double doors that towered 4 times my height, I thought about all the times I thought I was going to burst into flames the minute I walked into a church for all the times I strayed away. This time was different though. I was confident I was welcome.  Like the parable of the Prodigal Son, it was like coming home after a long period of time being away. I might be a Protestant and I was about to enter a Catholic establishment, but my youth revolved around the church. No matter how the Catholics have a different way of doing things, it is still a place of worship. There was no stopping this guy from walking in.
  The doors opened and I was allowed to revel in the highest arches of the a biggest church I've ever seen. I was doe eyed! I was amazed. Pews lined up from the back to which seemed like 60 yards away from the podium. Different Saints lined the sides for whomever wanted to pray or make donations. What a beautiful piece of work! I took my time to read the articles right next to each section of the Cathedral and I made my way around the Cathedral taking pictures. There were actual priests on duty if anyone wanted to do a confessional.  During this intense time in Paris, so many needed comfort and a lot of them were for sure they could find solace in the church.  It was pretty inspiring!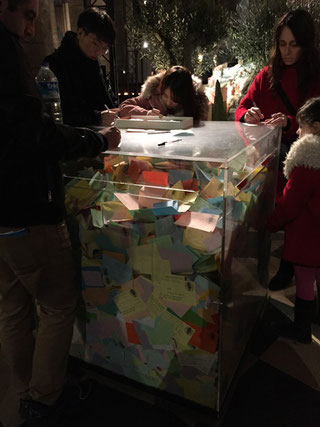 I made my way around the church passing by one patron saint to the next and some articles about the process of building the Cathedral.  And then I stumbled upon this big plexi glass box that people were dropping pieces of paper in.  I found out a few seconds later that they were dropping messages of peace; prayers.  I always get this feeling when I'm somewhere new.  Should I do it? Or just watch and pass them by?  If I did nothing, I might as well have stayed at home! I know this doesn't compare to actively participating in a rally, but after passing on the rally, this will have to suffice. Needless to say, I was compelled to write my own prayer and drop it in the box. It felt great. It was just a piece of paper, I know. But right then, I was different from the previous minute. I genuinely felt I sent positive energy out into the universe! Something selfless has come out of me. Can you believe that? Ha! As I walked away, I felt this tranquility within me. And as I passed by the pews, I realized there were other people who were in search of this tranquility as they sat in silence.
  I wanted to share what I felt just by being near them. I wanted to share in their silence. The people in that Cathedral came from different walks of life, but right then and there, I could relate to their search for peace, their search for love, their search for stability or their search for any kind of answers for that matter. In the end, we're all human. I sat there patiently in one of the pews in the middle of the Cathedral, taking in the holiness of the silence and the loudness of the hearts beating around me. And the unexpected happened; at least for me. The bells chimed gloriously overhead and a procession of priests and altar boys commenced. A mass was beginning. And there I was, partaking in the process. I sang the hymns with the cantor, and listened to the short sermon. I obviously couldn't understand most of it, but the act of being there was enough for me to convey my support for the tragedy that happened at Charlie Hebdo and that my heart goes out to the friends and family that were affected. For a fleeting moment, the worries in my daily life didn't walk inside with me. I was just me.  I am.  Je suis.