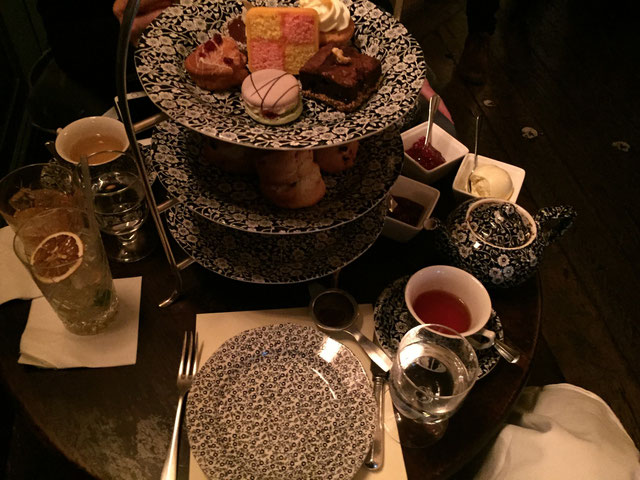 Before I decided to go to London, I already had an idea of what I wanted to do. One of them was go to afternoon tea.  It's the quintessential English thing to do. So there I was trying to find the perfect one on the internet.  But then as I was doing my research, most of the places that held afternoon tea were super expensive or they just didn't have the ambiance that I was looking for. In my head, I didn't want to go to an establishment that served tea on regular restaurant tables. I wanted a stereotypical afternoon tea that included low cushioned chairs, intricately detailed china and of course excellent food. Some of these places I found had great reviews on trip advisor for their foodand affordable but the restaurant looked like a diner. Some other places had overall great ratings but were way too expensive. I was in a bind.  I didn't want to spend time in London without experiencing the essence of tea.
  While doing my research, I learned a few things about the culture of tea.  Afternoon tea starts in the middle of the afternoon and lasts until about 5:30.  It was first done by the Anna, the 7th Duchess of Bedford back in the year 1840. Back then, it was usual for people to only have two meals, one at breakfast and another at 8 pm. She started having tea and light snacks in her boudoir at around 4pm.  She later on started inviting her friends and wala! The culture of afternoon tea spreed like wild fire. Well sort of. They didn't have cars or the internet back then. When tea became popular among the working class, they started having high tea, which began later in the day after work around 6 pm and served on a dinner table, hence "high tea."
  In modern times, the food is served in 3 tiers during afternoon tea. The sandwiches with the crusts cut off, of course, were served on the bottom tier. The scones were served on a plate in the middle tier. The cakes were served at the top; which was appropriate because these cakes are usually pleasing to the eye and draws in the guests' attention.
  After I invested my time into some thorough research, I finally found the perfect afternoon tea. It was at the Dean Street Town House. It was just what I envisioned! They had low cushioned chairs, intricate details on their china and the food looked great. I immediately went on their website to reserve a table for two.  And guess how shocked I was when the times for afternoon tea were blocked off.  Were they booked 3 weeks in advance?  Do they not take reservations?  I was devastated! I found the perfect place for afternoon tea and I COULDN'T. GET. IN!!  As a last resort, I emailed the contact info and asked to be squeezed in mentioning that it was my first time across the pond and my first time in London.  A day later, I got a reply.  I was ecstatic!  It goes to show you that if you persevere, you can get it. The lady asked when I wanted to come.  And I said 3pm for two would be perfect.  And it was done.
I met my friend Mark (my travel buddy for London to Paris) at noon in Soho. He was hungry and wanted to get lunch.  I told him that afternoon tea is at 3pm, so we decided to hold off on food until then.  We went to a coffee shop instead and got espressos.  This was my second day in London and I was still taking things in. I was so intrigued with the maze of little side streets that hardly exist in the states.  After coffee, we walked around and window shopped for a little bit. I kept looking at the prices on the tags and my initial thought was it's not that expensive! Then I realized, I forgot to convert it to US dollars.  And damn!  The pound is out of control! I think when we were there it was $1.55 to the pound. That means, if a sweater is on sale for 100 pounds, it's really $155.00!  Oh no no no! That is no joke! Who does the pound think she is? After window shopping, we got outside seating at this restaurant in the West End. We sat across the street from Miss Saigon the musical and watched people pass by. People watching is a past time I hardly do anymore. But man is it so much fun!  I noticed what everybody was wearing down to their socks.  It being a Saturday, I hardly saw any well structured suits.  However, the dressed down day wear was still en pointe. We had a couple of glasses of wine each.  I thought it was fairly inexpensive, really good Cote Du Rhone for 6 pounds each glass. I converted it to dollars and it was still somewhat reasonable compared to New York standards. A glass of Cote du Rhone in New York will run you at least $12.00. Time passes by when you're having fun and when we looked at the clock, it was time to go.
       When we walked in to the Dean Street Town House, It was busy in the restaurant. It was brunch! People were having eggs, mimosas and bloody mary's. We checked in and went to the bar to have a cocktail. It dawned on me after I finished my drink that we were 3 in before we even sat down.  Eh! Who's counting? When our table was ready, we were led in to a parlour with hard wood floors and seating everywhere. This is a far cry from my assumption that the whole place was booked.  She took us to a cute little table with two low cushioned chairs right next to the fire place! THE FIRE PLACE!?! Two of the only few guys in the room, having tea right next to the fireplace, and having the best time is the BIGGEST EPIC BROFAIL EVER!!! And we loved every minute of it! We decided on our tea. Mark ordered a green sencha.  I wanted to be more adventurous and got the Afrooika, whatever that was. And we also decided to get a bottle of Prosecco!  Don't judge us!  We were on vacation.  The bubbly was flowing.  The tea was steeping and the food was on its way.  Everything was awesome! The ladies across from us were smiling and giving us looks like we've never had tea before... Duh! But they might be looking at us because we were acting like loud Americans... Duh! Later on after a few minutes, I did tone it down a bit;)  I would never want me being American to be cast in a negative light.
  Then the food came just the way I expected it to come; in three tiers.  We had the sandwiches first. There were the cucumber sandwiches, the ham sandwiches and my favorite which I was hoping they were gonna serve, smoked salmon and cream cheese!  And when I thought this day wasn't gonna get any better, we had the scones in the middle plate. These scones were warm, hard and crumbly on the oustide and warm and soft on the inside with just enough moisture.  It came with cherry jam, strawberry jam and clotted cream on the side. I've never had clotted cream. It had the consistency of cream cheese but it was less tangy or salty. One dollop of it on with some strawberry jam on the scone and forget about it! It was that heavenly!
  I was having so much fun, I kept pouring the tea without straining it. I forgot that I have to put the strainer on the cup first before pouring the tea.  The teapot itself didn't have a strainer inside.  And of course, while I was laughing doing this, the ladies across from me were smirking.  I don't think they were smirking at me. I think they were smirking with me.  People have told me that do I have a magnetic personality;) I'm not surprised they think I'm adorable. LOL!  Back off ladies!
The A-train is not interested. I have to focus on tea. Hahahahahaha!
  The last tier was the hardest. Neither of us were desert type of guys. But I had to at least take a bite on one if not two of them. There was this pink and yellow cake that I think had some molasses.  For somebody who doesn't like dessert, I thought it was really good. There were this purple cookie sandwiches that had cream stuffed in between. There was a chocolate cake as well. By my third bite, I was done. Surprisingly, the sandwiches and the scones are very filling. I didn't 
know tea was such a hefty meal.
  We asked for our bill.  At 35 pounds per person without the bottle of Prosecco, that is a great deal. You can't find anything better than that. So take my advice!  Afternoon tea at the Dean Street Town House in Soho, London is an amazing experience.  The service was excellent.  The food was amazing and the ambiance sets a refined mood. Bring a good friend with you and you're good to go. Who's knows?  If you see me there, you might even get a show out of it! 😜