In Greek mythology, Capri was known as the isle of sirens. Just the ring of its name sounds impossible to reach. But daddy's clever and found $600 round trip flights from JFK airport to Naples, Italy. From there, it's only a 40 minute ferry ride to Capri. Thank God! Everyday grind in New York City was becoming unbearable.
  Even after I realized it was possible to get there without a time machine, chariots and mythical creatures remain engraved in my head. Even Dolce & Gabbana capitalized on the island's magic. They made a commercial for Light Blue cologne with supermodel David Gandy, who's got the body of a Greek god juxtaposed against a backdrop of rock formations reaching for the heavens surrounded by a deep sapphire blue Mediterranean sea. This was a setting made for descendants of Zeus. And it was befitting that I got a ticket huh?;)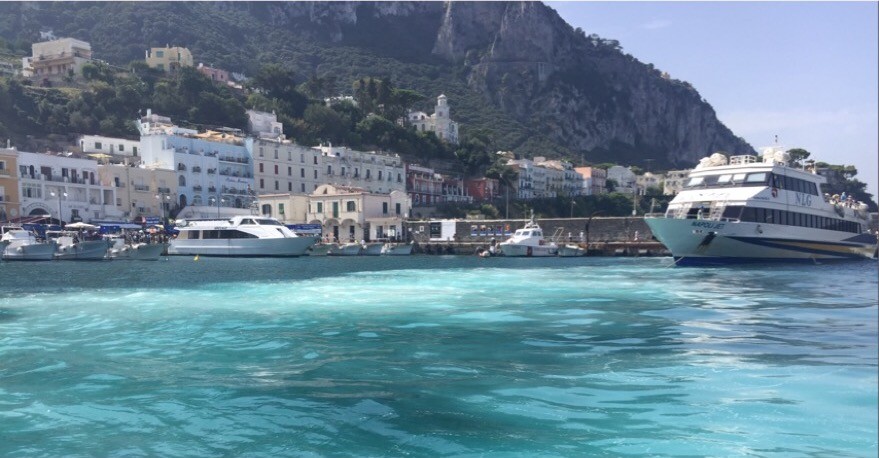 When the ferry arrived at Marina Grande, the main port of Capri, lighter hues of blue caressed the beach while boats floated nearby in all sizes. When I think of islands, I think of flat plains with palm trees everywhere. Capri, however, had magnificent and grandiose cliffs jutting up to the sky.
  The view was even more marvelous from up top.
  Okay Okay! I have to make a confession.This place actually caters to everyone and not just gods. There I said it! I'm not sacred. LOL! Upon exploring around, my travel buddy Lexi and I saw a wide variety of stores; from little memorabilia stands, bistros, high end fashion designer stores to fine dining restaurants. One can enjoy a vacation in Capri on a range of budgets. One of the establishments I was most impressed with was our boutique hotel. Hotel Flora in Capri had the most outstanding service for the affordability. They treated us like guests on Mount Olympus. (See what I did there?:) My server Bruno brought my eggs and coffee exactly to order every time for breakfast. He also brought my new favorite beer, Nastro Azzuro to me while I laid out by the infinity pool in the afternoons....... on multiple occasions. The concierge did everything to make us feel welcome including reserving a table at the number one tripadvisor rated restaurant on the island. They gave us advice on places only locals knew about. They also scheduled bag delivery to and from Marina Grande. They even upgraded our reservations to a suite with a full sea view. It was a gesture we whole-heartedly accepted but was totally unexpected. Now I know what you are saying,"don't most hotels do all of that?" But for the mid-range price point, I didn't think they would serve me hand and foot. I should know. I get bougie sometimes.
  To add to that, it was an adorable hotel. The Mediterranean inspired ambiance with the intricate tile work on the floor got me so inspired. Inspired to relax that is. LOL. And how can anyone go wrong with a swimming pool overlooking the deep blue sea.
  Rave reviews followed Da Tonino restaurant all over the internet. So naturally, my curiosity took over and I wanted to experience it myself. The concierge made a reservation for Lexi and I. He gave a forewarning to leave the hotel 20 minutes before our reservation because the restaurant is far from the center of Capri. Lexi and I walked through narrow winding corridors and steps. We ended up walking through residential areas. Kids were playing soccer outside their houses and the street lights were dim at dusk. I thought we were lost. When we arrived, we saw a small sign and it was at the end of the street. If this place is so remote in a darkly lit end of the road, it must be hella good. Of course, they didn't disappoint. The ambiance was very warm and inviting. Wood was the theme. We were sat at a charming table in the balcony. The weather was perfect. It was quiet. Come to think of it, I don't remember if they played any music. But let's focus on what we came there for: the food. It was outstanding!
  On one of the days we were in Capri, we decided to relax and layout by the beach. We went to Marina Piccola and rented beach chairs on the balcony of this one restaurant. The beach chairs in Italy are great. There's an extension on the top of the chair that you can pull over your head to keep the sun out of your eyes and to prevent you from overheating too fast. On the down side, they are E20 each in Marina Piccola. We spent our day laying out and drinking Aperol spritz and Nastro Azzurro. They delivered our drinks to our chairs; a nice touch. But for E20, I expected nothing less. I found out later that there was a larger beach a few steps away from the restaurant. It was packed. And compared to the restaurant, the beach was free. What a find! Too bad we were leaving. Maybe next time.
  On our last night in Capri, we tried to find VV bar. The concierge at Hotel Flora said it was a happening place where we could go dance. Lexi and I met our new friends Jackie and Greg where the GPS said the bar was. To our dismay, it was closed. So we went next door to Ristorante Villa Verde and grabbed some drinks at the lounge. Once again, the service was excellent. This is the general consensus we developed about the hospitality industry in Capri. They were attentive and our drinks came promptly. I noticed that there was a birthday in the dining room. When it was time, everyone (I mean EVERYONE) started singing. The manager even gave us a piece of cake. I think the birthday boy worked at the restaurant and his mom made the cake so it was ok for us to have a piece. That would've been weird otherwise. We were later informed that it was a family owned business. In the end, there was no harm done and there was enough cake for everyone:)
 We were enjoying our drinks when our server told us that VV bar will be opening up at 11pm. Perfect! It was meant to be. I was meant to turn up! The night was young and we were having a great time. We were led through the joint hallway to our short destination. Apparently, the club was owned by the same people as Ristorante Villa Verde. It was a decent sized club that can hold about 20 people on the dance floor. They played American Top 40. I think the dj found out we were from the states. No complaints here. When the club started to fill up, he switched gears and played songs with more international appeal. We had a blast and danced the night away.
  On our last day, we met up with Jackie and Greg early to go on a boat tour around the island of Capri. Hopping on the funicular, we went to Marina Grande. We came upon Augusto Cafe where we had to wait for a man named Gianni. He even had his own reserved table on the front patio. It was like a scene in Godfather. I would be lying if I said a fleeting thought involving gunfire didn't enter my head. After the necessary arrangements, we were led to our own boat for the day with our captain Stefano. Thin and quiet, Stefano only spoke when he had information he wanted to share with us. He was friendly none the less and accommodated all of our needs. The boat was perfect for the four of us. He even shared some of Gianni's family homemade limoncello and homemade red wine.
We saw different homes and lighthouses on cliffs. But the grand introduction started with the Fariglioni rocks. Three distinct rock formations that are just off of the coast of Capri reaching for the gods. The smallest one had an archway we could pass through. It has been tradition for couples to kiss while passing under it. For those who are reminded by society of their single status, they could make a wish. I made multiple. Haha!
  We saw many caves, massive caverns and blue light coming through the deep blue sea. But the climax of our trip was when Stefano drove our boat into this isolated lagoon where we got to swim and enjoy it for ourselves. He had goggles that he shared with us to look at the fish underwater. What a nice secret little spot. Well, it just seemed like a secret because no other boats where there. Either way, it felt special having the lagoon to ourselves for 20 minutes.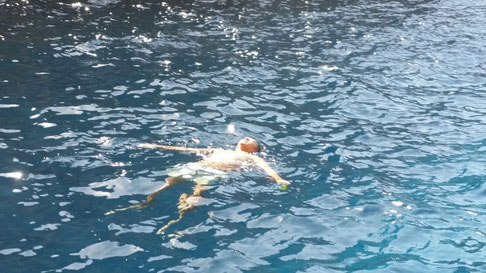 We opted not to visit the blue grotto because it was a 40 minute wait to get in. We decided to just relax and take in the scenery while our boat made its 30 minute trip back to Marina Grande. At first I had my phone and my gopro at hand just in case I found some more interesting landscapes. But I was missing the point. So I put them aside. I laid on the boat, closed my eyes and enjoyed the sounds of the sea and the rays of the sun peeking through the baby blue awning; an excellent way to end our stay in Capri!
Let me know what you think. How was your trip to Capri? Questions and comments are appreciated below if you are so inclined.