I'm usually one to stray away from things too touristy. I like to get to know a city by hanging out with its locals and immersing myself in the culture may it be through food, performing arts or its natural landscapes. But I couldn't have gone to Kyoto and not be a full fledged tourist. The main reason to go to Kyoto is to visit the many different temples and shrines. It's the original capital of Japan and one of its oldest cities. These buildings have a lot of history behind them. So after my overnight bus arrived to Kyoto from Tokyo, I checked into my hostel and immediately conceived a game plan. I had to cram a bunch of temple visits in a couple of days because I was only there for a certain amount of time. Plus, the rainy season was about to start. It's way easier to focus on the landmarks when I'm dry.
  I went with some of the more popular sites. My first stop was the Fushimi Inari Shrine. I stumbled upon some beautiful images of this shrine on instagram. I was fascinated. The fiery orange red color of the temple and the numerous tori (gates) that led up the mountain was mesmerizing. The tori at the base of the mountain were big. They gradually get smaller the higher I went. I was there on a Monday afternoon and the crowd was bearable. Finding a spot to take a selfie without anyone around, however, is a skill to master. But when I did find some alone time, it was all over. Photo op galore.
  Inari, the god of rice, is also the patron of business, merchants and manufacturers. Each of the tori were donated by a Japanese business to the shrine hoping for a long and prosperous life.
  My second stop was the bamboo forest. It is about a 40 minute train ride from the center of Kyoto. Every time I see a picture of this forest, I feel so serene. The world shuts up if but for a moment. When I finally got the chance to visit this place in person, I felt just that multiplied to a hundred. It was so peaceful. I heard about monkeys living in the area but I never saw them. Maybe next time.
  The next day, I decided to go to the most popular temple in Kyoto: the Golden temple. I don't know how I coerced myself to go. I've grown to hate crowds. The amount of people that apparently visit this shrine goes up to the thousands per day. But it was raining and I thought a lot of people would stay at home. Boy was I wrong. After taking a 50 minute bus ride to the site, I quickly realized that this place is popular come rain or come shine. I can't blame them. I love shiny things myself. If I could fill my life with more bling, I would.
  Having seen enough of the sights I've wanted to see while in Kyoto, there was only one thing left I needed to experience: a geisha performance. Geishas are iconically Japanese. I've watched a bunch of movies like Memoirs of a Geisha which have gotten me curious. Hell, I've even played one in the musical Pacific Overtures. And let me tell you, I am not a good looking woman! Still, the curiosity lingered.
  With a lifestyle so different from mainstream Japan, I couldn't even begin to describe what their lives would be like. I've done a little bit of research. I wanted to meet one. I wanted to immerse myself in their ways. Unfortunately, you must have a lot of money to experience this. Their skills of entertainment through song, dance, games and conversations are highly coveted. But if you're clever like me, you can find blogs on the internet that give backpackers some hints on how to see them for cheap. I even got a discount because I inquired at my hostel. The lady at the front desk said if I gave the theater a flyer from the hostel that they would give me a twenty percent discount. SCORE!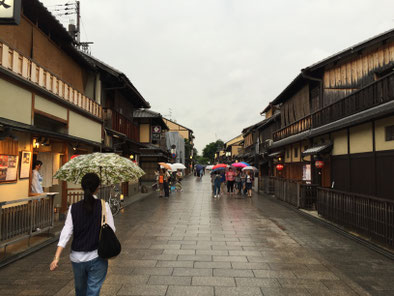 The performance was in the Gion district of Kyoto. It's the oldest section and the heart of the Geisha culture. Restaurants line the main street galore. Expectedly expensive, I focused on finding the theater. But there were just so many amazingly old streets, I couldn't help but take numerous pictures.
  There were a couple of things I didn't expect when I came to the performance. I thought I was slick and was going to a small performance. I quickly realized a few hundred people were at attendance. Turn off. However, I found out the show had several different performances involving different traditional Japanese art. DOUBLE SCORE! I thought it was a good compromise. 
  The first section was a traditional tea ceremony. The older woman performing the actual tea making had so much finesse and composure. By looking at how she does it, there's obviously a technique to it. It even feels like there's a rhythm set to the accompanying background music.
  While the tea ceremony was being performed, a couple of women started playing traditional songs on a traditional Japanese stringed instrument called the Koto.  Very soft and soothing, the music gave an ambience of a world gone by.
  This male Japanese dance performance is a form called Noh. It brings together instruments and elements of song. When the curtains came up, I was a little thrown back. There was a lot going on with that costume and his mask is reminiscent of some of my most vivid nightmares. But once he got going, I started to appreciate the valor and confidence of the art form.
 There were other performance as well that added to the show. They had a traditional flower arranging presentation. Some actors also came out and performed a traditional play usually only performed for royalty. Hundreds of years later, people of all tax brackets can enjoy it. But the finale performed by some Geisha girls, was what I was waiting for. Unusual at first, I found the choreography very intriguing. The fluidity and style went well together. Sometimes they mirrored each other. Other times they repeated choreography to represent a form of a chorus. 
  Leaving the performance, I thought it would've been amazing if I got to see the Geisha do their element traditionally. But I'm not a rich business man so I have to settle. What I did see gave me enough of a glimpse of a world so set on tradition and culture. With the city filled with beautiful temples I was honored enough to visit, the performances was an excellent icing on the cake. If you get to visit Japan, make sure you drop by Kyoto.
If you have any questions or comments, feel free to leave them at the bottom.