It was a sunny March Wednesday in Havana. Like a light switch, my spirits wake up and want to do cartwheels from the deep Winter slumber in New York I fall prey to every year. Showered and well rested, I walked to Hotel Nacional, the most famous hotel in Cuba where I intended on meeting my roommate Kwame. He left the day before and had not had any connection with me for two whole days because of opposite schedules. Wifi connection in Cuba was sparse at best. And American phone companies don't offer international plans in this communist country just yet. Needless to say, I was anxious to see if he got in okay. He doesn't have a lot of foreign travel experiences under his belt. And Cuba was hardly anywhere near an all inclusive Sandals Resort.  We agreed to meet at 4pm on the day I got in. As the doorman of the hotel courteously welcomed me in, I easily spotted my roommate sitting in one of the lobby couches dressed in a print button down short sleeve and matching shorts looking relaxed like he's been on vacation for weeks. He had his head down and legs crossed reading the Lonely Planet's Guide to Cuba; a seemingly basic book that will turn out to be our saving grace in a couple of days. I smiled. I was so proud of him. I felt like we were international spies that agreed to secretly meet each other in another part of the world at a specific time and he came through.
  The hotel lobby was grandiose but dated as expected. The earth tones and dark wood accents were especially highlighted by its cleanliness. The pillars that lined the rear garden was juxtaposed against a waterless fountain in the middle and what seemed to be thirsty, but well manicured grass. An efficient water sprinkler system might not have made its way to Cuba yet. I'm gonna forward the hotel general manager a link to the Home Depot website. Some of the sanctions have been lifted. I'm sure they could find a hose online. j/k Nevertheless, the hotel had an air to it. The view of the sea from its rear garden was breathtaking. No really, there were so many people smoking cigars I couldn't breathe. But in all sincerity, the cliff overlooking the water guarded by two humongous canons was impressive. We sat at a table near the cliff and basked in the sun drinking you guessed it: mojitos. 
  Time passed slowly. A band of three would go around the garden serenading the hotel guests with traditional Cuban fair. The weather was perfect. Company was great and I was getting tipsy. It was so relaxing, I started to forget all about the cigar smoke. We spent more than a few hours there. We acquired wifi access through the internet cafe at the hotel for 7 cuc's and just chilled. It was damn steep for wifi access! The exchange rate was 1-1. But I wasn't about to riot. Kwame facetimed his mom and we both facetimed one of our friends Timere. We ended up eating there too. I had a Cuban sandwich. No joke, it was the best Cuban sandwich I've ever had.
  My roommate and I ate to our hearts content and got drunk like we had no responsibilities. Oh right! We do that anyway. Don't worry, we pay for it the next day all the time. But this week was going to be a freebee. We were on vacation after all. Properly sauced up, with access to a wifi, I had the great idea of searching for a gay bar. But while in party mode, we were half-assed looking online for the next destination. When we found a few that were walking distance, our wifi access ran out. Daring from the alcohol intake and excited to write our own adventure we decided to look for one. I had a gist of where it was. Coincidentally, two seemingly gay men walked outside the hotel so we followed them assuming that they would lead us to the end of the rainbow. See what I did there?!? Haha! I don't think they knew where they were going because they led us to a wifi spot. It wasn't all bad. I paid for the wifi through this guy who was selling passwords and got the exact address of the bar we wanted to go to. We made our way through the dark lit streets and found it. It was called Las Vegas Nightclub. A crowd was forming outside because it didn't open until 10pm.
  We were 15 minutes early. Suddenly, two native Cuban guys started talking to us from across the street. My guard went up so fast!  I've read about these guys in certain blogs. They were prostitutes. But I didn't realize they were that aggressive. They invited us across the street to drink cuz they said Las Vegas Nightclub was lame on Wednesday night. I shut it down so quick. But I turned to my left and Kwame was eating it all up. So I caved in and said we'll hang out for a little bit until the club opens up. After all, we were on vacation. And if anything should happen, we were still in public. Kwame's guy, Angelo, was darker skinned of African descent. The guy who sat next to me was lighter skinned and looked more Spaniard. Roberto was his name. Kwame's guy asked about his background. Mine showed me his dick pic and said $25 for him and $10 for the casa particular ( a room in someone's house that is government certified for tourists) and we could have a good time all night long. Kwame's guy complimented him on his eyes. My guy told me I looked like that singer. I thought, 'oh yeah, people do tell me I look like a celebrity.' I realized a few minutes later that he thought I looked like PSY-the Korean guy who sang Gangnam style.... Or even worse, that guy from American Idol. SMH. My side eye went so far, it travelled around the world and hit me on the back of my head.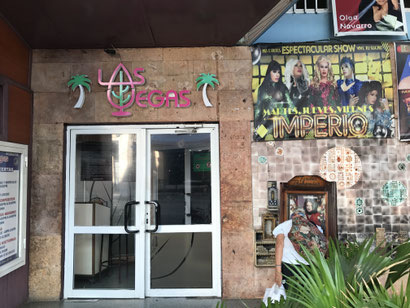 I hated to break up the oodles of fun WE were all having but I really wanted to dance. So I paid for all our drinks with Kwame's reassurance that he will pay me back in the immediate future.
  We crossed the street and went to Las Vegas Nightclub. I walked inside last and naturally got charged for everyone to get in. #SMH again! I must've been drunk. I hardly buy drinks for others these days, much less pay for everyone to get in..... Ok I'm lying. I still buy people drinks. LOL! Three sheets to the wind I tell ya. Roberto wasn't impressed with the place. He said it was boring. He would rather have had us go to the casa particular. But I knew that was't going to happen. I wasn't THAT drunk. I finally told him an hour into hanging out that I didn't pay for sex. I had to tell him several more times. Then finally accepting defeat, he squeezed my clavicle firmly and asked for $10 just for putting my arm around him. It was gentle enough that I could've taken it as playful. But it was also strong enough that I could feel the desperation through his grasp. I said "bro! I'm not paying you. I bought you enough drinks." And I pushed him off me. Angelo and Kwame noticed and got in between. Realizing what he did, Roberto left embarrassed. Angelo had another friend, Martin who joined them and both put on the sweet talking. Kwame, charming as he is didn't think much of it. I didn't intervene. Kwame's an adult. He can handle himself. But in the back of my head, something was telling me to keep an eye on him.
  I kept fending them off. This bar was infested with prostitutes and the locals are just laughing at us tourists. I met these American guys from Philadelphia and they agreed. We couldn't keep them off us. There were some nice locals who warned me to watch my belongings. Next thing you know, I started feeling someone tugging on my wallet. Good thing my back pocket had a button and my shorts were tight enough that I would notice if something moved.
  This one big guy kept following me even though he knew he wasn't gonna give me what I wanted if ever I did decide to pay for it;) He nicknamed me Chino. I believe that's what they name any Asian they meet. It's a term of endearment.... I think. Coming in I thought I would've blended in more with the locals. In the States, Latinos approach and converse with me in Spanish all the time. I guess I don't pass for Latino in Cuba.
  Later on that night, I made eye contact with this really handsome guy by the bar. Looking like all the male supermodels I follow on Instagram, he approached me and introduced himself. He was very calm and collected. Julio was his name. He was a fresh contrast to Roberto an hour before. We talked for a few minutes when Kwame interrupted and said he was leaving. "Be safe!" I said. I had a bad feeling about this whole situation and I didn't want him to get hurt. He smiled and said he will.
  My night looked like it was winding down as well. I had another beer with Julio next door at the cafe/diner while he ate a meat and cheese plate. It came with thick cut ham, unknown yellow cheese, and black olives. It was hardly a charcuterie board. But I was wise enough to reserve my bougieness for other travels.  Cuba doesn't have the access to resources like other countries. 
  "Are you a prostitute?" I asked.
  "Your eyes are beautiful!" He responded.
  "I'm sure there are other ways to make money." I said.
  "I like your smile." He replied.
  Clearly, there was a language barrier…. And how is he suppose to better himself in a communist country? There aren't a lot of opportunities out there in Cuba to make money. 
  We finished. I paid for the bill. He hailed me a cab and offered to accompany me during the ride. I thought that was a nice gesture. I noticed that there was a driver, a second person in the front passenger side, me and Julio in the back. I was sketched out about having two people in the front. But I was too tipsy to care.
  Julio asked for $10 for the ride and $10 for his services. What services? Am I a lonely 85 year old with no social skills? I gave the driver $10 and the rest of my small bills to him which came out to be $6. How did that happen? You couldn't get me to give a dollar to homeless people in New York city subways but I freely gave this guy money and bought him dinner. There seems to be a recurring theme here. I'm gonna have to declare this on my 2017 taxes under donations.
  We said our goodbyes. I walked into my Airbnb and passed out in my room.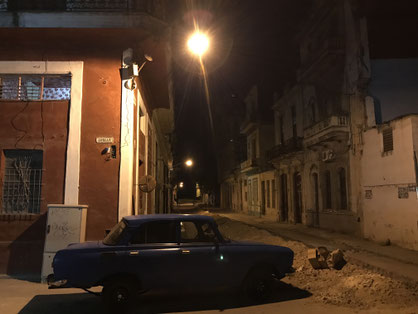 My Airbnb host, Jenny, knocked on my door at 9am the next day, Thursday, to wake me up for breakfast. I opted to have breakfast for all the days I was staying at her place. It would've been rude if I didn't wake up to eat the food that we agreed she would prepare. Mustering up all the strength in me, I got up to join her at the dining table. I tried to fake it like I wasn't hungover at all. It was super difficult. While I ate, Jenny and her husband wanted to have a conversation about America...... in SPANISH!!!! I thought working out at the gym hungover was the worst. I was obviously wrong. Speaking in a different language while hungover trumps that and takes first place. But I survived the torture. And I went back to bed for another hour. 
  I was suppose to meet up with Kwame in Old Havana at the Fountain of Lions at 11am. I ended up being late. I didn't fully wake up until 11am and wasn't out the door until 11:40am. I walked to our meeting site and found no Kwame. I walked around a bit and found a wifi spot. I paid for it but my phone wouldn't bite. I was zero for two so far. I also looked into my wallet and it seemed like I was frivolous with my 7 day budget the night before. I wasn't worried. Kwame had a lot of cash with him and he was going to pay me back from the night before. 
  Finally, I felt a hand grab my shoulder. I turned around and it was Kwame. He was 2 hours late but I was just happy he was alive. I don't think I ever shook off my worry for him the whole time during the trip. I felt responsible.
   He was exhausted. He wanted us to sit in the shade for a good couple of minutes. He said he walked to the Fountain of Lions from his Airbnb. And from what he has shared with me, his Airbnb is 2 hours from where we were. It didn't matter though. I'm just glad he's safe. Kwame proceeded to tell me that I was right. Uhh! "What is this motherfucker about to tell me?" Apparently, the two guys he was hanging out with the night before got him a cab and offered to accompany him home. When they arrived at his Airbnb, the guys demanded money for the driver, the guy in the passenger seat who navigated and each of them who he was talking to all night. (What's up with navigators in sketchy cabs?) He then told me that he gave them all his cash.....WHAT?..... We didn't panic. I was too hungover to panic...... WHAT?...... I'm sure this has happened to Americans before. But as the day went by with hardly any internet, lunch and dinner on me, no access to our bank accounts and dwindling cash, I started to worry. From our knowledge, the US Embassy wasn't even open on Fridays. GOD HELP US! I haven't skipped a meal since my party days in Los Angeles over a decade ago!! 
  We met up in Old Havana on our third day. We decided to go get wifi access and check if Kwame's friend Diego wired Kwame some money. He got a hold of him through Facebook messenger the day before when we got a wifi connection at Hotel Ambos Mundos.
  A good tidbit: It was Ernest Hemingway's home for seven years in the 1930's.
  To no surprise, we were still broke AF. Kwame read his Lonely Planet book and found out that the Embassy is open on Fridays. HALLELUJAH!!! I knew that book was going to be useful. I dialed the number and the operator at the embassy gave us a couple of options. The first one was that we could talk to one of our Airbnb hosts and reserve rooms on future dates that would total the amount of money we needed and he/she could give us the cash. Fingers crossed, the Airbnb host would be willing and able to financially help us out. The other option was for one of our friends from the United States wire money to a Cuban National that is not related to us. It seems like it was getting more complicated the longer this problem persists. We were hopeful though. I hung up and we walked to my Airbnb and was going to talk to Jenny first cuz she was the closest. She wasn't at home. Putting our brains together, we realized we had two options. We could wait for her, or walk to the embassy. Kwame had a hunch that the embassy could be more helpful if we were there in person. It was our best shot. At least there, we could maybe use their phone/internet. Plus it was a 15 minute walk to the Embassy instead of 2 hours to get back to Kwame's Airbnb. On our walk towards the US Embassy, Kwame started to limp. In fact, I noticed him limping the day before. Poor guy. His Airbnb was in a suburb of Havana. And to save money, he's been walking. He could've taken the bus but I think it was a little intimidating since he didn't speak Spanish.
  The walk to the US Embassy was bearable. Kwame reminded me before we left Jenny's house to bring my passport because they wouldn't have let me in if I didn't have it on me. Teamwork is key here. We finally got there and the woman behind the glass partition said exactly the same thing she said to me on the phone. The only difference is, she could call from the Embassy and speak to our hosts on our behalf and let them know our situation in Spanish. It's a good thing we came. We opted for her to call. We tried Kwame's host first. The lady went away for a few minutes to make the phone call. I could barely make out the Spanish she was saying.The anxiety between Kwame and I was palpable right when she came back. Thankfully, Kwame's host said he would help. He said he was willing to go to the Western Union and take out money for us. THANK GOD! So we Facebook messaged Kwame's friend Diego all the information. He replied back saying that he'll do it but he just paid his bills and didn't know how much he could give. Uh oh! That's not a good sign. I mean, I was super thankful that he was willing to do it. But from the sound of it, we were going to need back up. I thought fast and hard and messaged our friend Timere who I knew would help us in a heartbeat. I'm usually not one to ask for help, especially not money. But we were strapped and stranded in Havana. Kwame and I both had money in our bank accounts. We just couldn't access them. The ATM's in Havana would just spit out are cards and start laughing in our faces. Without any questions, Timere took time out of her busy schedule to help us out. She's a fucking God sent!!
  A couple of hours passed by. We were waiting for a confirmation from Timere and Diego when Kwame started feeling sick. Minutes later, he threw up in a trash can. BRO! As if things couldn't get any worse. In the midst of this, we got Diego's confirmation. I was thankful, but I was more concerned about Kwame's health at this point. I figured he was wearing a tank top and the air conditioning got really cold at the Embassy. Being there for over two hours and the transition from hot to cold might've gotten to him. He might've been dehydrated. He had to leave immediately and get water from our bags.  But our bags were checked in at the front gate. I told him I would stay behind until the Embassy closed at 3pm waiting for Timere's update. He got his bag, drank some water and walked it off for a bit. 
  The Embassy was closing and I was no longer able to wait for her reply there. So I updated her on Facebook messenger and told her that I had to leave, but I was going to stay in contact through a wifi hotspot. Kwame and I decided to go back to Hotel Nacional. It was our homebase. Of course there's only 20 cuc's between the two of us and we picked the bougiest hotel to hang out. We got an hour wifi access for 7 cuc's. When I logged in, Timere already took a photo of the receipt for us and messaged it to me. Boy I tell ya! I was pretty ecstatic! I think I almost cried. Kwame needed to stay away from the air conditioning so he stayed in the back lawn getting some vitamin D while I finished writing down all the information for him. I even sent it through iMessage just in case he lost it and had no access to me, he could just go into a wifi hotspot and retrieve it. After finishing, I told him that he had to leave and meet his host cuz it's almost 5pm and God forbid, we don't get the money out on time. We would be SOL since Western Union doesn't open until the Monday after. I gave him my last 13 cuc's to take a taxi home. The taxi at the front of the hotel said it will take 15 cuc's. Son of a Bitch!!! Can someone please throw us a bone!! The doorman suggested the taxis parked outside of the hotel grounds. They might be cheaper. We walked out of the gates of the hotel with Kwame's limping leg. Poor guy! I don't think this is the vacation he signed up for. I wanted to walk slower but we were in a time crunch. In a few minutes, we found the crowd of taxi drivers hanging out outside of the hotel premises. I showed them Kwame's Airbnb address. They said it was going to cost 15 cuc's. I then gathered all the Spanish inside of me to ask them to drive in Kwame's direction until the 13 cuc's ran out and then afterwards, he could just walk the rest of the way home. One of the drivers agreed. PRAISE JESUS! I gave Kwame a high five and wished him God Speed. I was counting on him. I watched his cab disappear into the sunset with my hands in empty pockets and conviction in my heart. 
  After having an authentic home cooked Cuban dinner with my host family and a couple of hours afterwards to anxiously write on my computer of the days events, I nervously walked from my Airbnb back to Hotel Nacional where we were supposed to meet at 10:30pm. Knowing the streets after a few days made the walk shorter than before. It was a Friday night. Every other block I passed by on Malecon (the infamous street that lined the coast of Havana) had wifi. Huge crowds gathered in the dimly lit corners. Each and every one of them plugged into his or her phone. Shit! I would spend my Friday night like that too if I lived there. If you ask them how this communist country got access to the internet, they would just say "Gracias por Obama!" Because when some of the sanctions were lifted from the American relationship with Cuba, the internet was one of the things that Obama thought would help ease the transition of the growing tourism in the country. From my recent experiences, I highly doubt that Cuba's wifi was any match for our semi-emergency. But it is fairly new. I'm just grateful we had the little amount of access that we had.
 When I got to the hotel lobby, he was nowhere to be found. I panicked! Did he get even more sick. Was he able to follow through? I looked at every couch thinking he might be sleeping somewhere. Nope.
  I thought to try the back lawn. I opened the french doors and I saw him walking through them. I made a gesture as if I was about to fall down on my knees and raise my hands to God. But he stopped me. And he sped up and said "stay here, I'm going to the bathroom." I patiently and anxiously waited for him for 15 minutes on one of the couches in the lobby. I think he was throwing up again. He finally walked up to where I was sitting. I asked how he was. He said he was getting better but he didn't want to jinx it. I asked if he got the money and he took out the cash that was in his pocket and lightly slammed it on the table with a smile on his face. I haven't felt so emotional in so long. I gave him the last of my cash that wasn't even enough to get him back to his Airbnb and now he is here giving me a wad of money.  It's like a short term investment!
  Shots on me! LOL! JK! I think that's what got us in trouble the first time around.
  Kwame, still feeling a little queezy, left after 30 minutes. I stayed and ate a Cuban sandwich and had another drink. Afterwards, I walked towards Las Vegas Nightclub. Roberto was walking the other way. He recognized me and yelled out "Filipino!" I ignored him and kept walking. He yelled "Filipino" again. I ignored him until he got within arms distance of me.
  "Whatsup?" I said. 
  "The bar is no good." He said. "Muy violente."
  I walked away taking his advice this time around and went back to my Airbnb. I wanted to punch him for Angelo stealing Kwame's money. I don't know why I didn't. Oh right! He was with 3 other guys. Plus, I think we all have had enough drama to last us for a while. I was just grateful we ended up not being stranded in Havana! 
As always, please feel free to comment at the bottom. Thanks!