I had this vision all planned out a year ago. I was going to rent out a 4 bedroom catamaran, invite several of my closest friends and sail through the British Virgin Islands during my 40th birthday week. But between hurricane Irma, hurricane Maria, severe news of a friend's family member, and another friend getting laid off, I had to set aside my dreams of wearing an eye patch, hook and searching for booty for another time. (See what I did there;)) If you know me well, you know that I hate plan B's. But I trusted the Universe. It just wasn't time. In defiance, I tinkered with the idea of a temporary self-exile. I thought of flying solo on an introspective trip to Norway. I wanted to go so far up in the north, dance with the auroras and talk to huskies about all my triumphs and defeats to date........ On the other hand,  I also thought of visiting my very dear friend Meredith in Puerto Rico. We have such a deep spiritual connection, a few hours of reflection with her would quenched my thirsty soul. Because of time constraints and the issue of jet lag, I settled for the latter 
   Of course, my millennial friend Alayna, who also loves to travel, insisted on coming with me wherever I wanted to go. I was hesitant at first. This trip was shaping itself to be reclusive. Looking back, I don't think Alayna gave me a choice. LOL. It turned out for the best. I've always thought of myself as an open minded individual. But as I get longer in the tooth, my opinions solidify. I find that I say the word "no" more often. It's refreshing to be reminded how open my eyes once were.... and still are. Let's not exaggerate. Daddy still looks and feels like a Filipino Peter Pan. Ok? Sometimes, he just needs a reminder. But yes, that's her. She's a wide eyed, bold young lady who's dreams and aspirations reach beyond her own boundaries and limits. And I'm glad she came!
   She said "as long as there's organic gluten free almond milk for her coffee, she's good to go." (insert side eye emoji here)........ She really didn't say that. I just wanted to clown her a little bit. lol!
   And offffff we went. Alayna and I sat right next to Leslie on the plane. She's this lovely Puerto Rican lady flying back home after a vacation in Taiwan. PERFECT! Alayna and I cannot stop talking about our separate experiences in Asia. The three of us talked about the food she liked and the places she visited. She joked about her husband being in first class and leaving her in economy. And we also talked about her experience being home during hurricane Maria and the struggles her family had to go through during the aftermath. It was heartfelt. Electricity was out for more than a month. The cash she took out from their bank account was suddenly inadequate. Luckily, she had family members to fall back on. She relayed a few more incidents that happened to her family and community. But through her stories, there was always a feeling of optimism alongside. I didn't hear one negative comment from her about the American government and their neglect to fully fund the rebuilding of Puerto Rico. She didn't need to tell us. It doesn't take a genius to know that throwing paper towels at a crowd would not solve the underlying problem.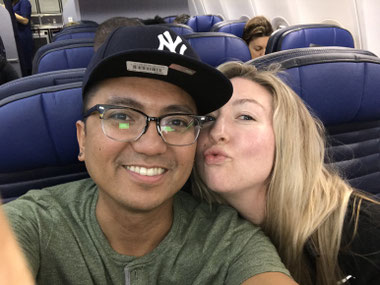 We landed at 12:20 am. I didn't know what to expect. I thought we were just going to end up at some bar barely making it to last call and turning in for the night. We stumbled across Circo Bar just 5 minutes south of our Airbnb. We walked in and immediately I thought the worst. It was a small dive bar with a sprinkling of people. One customer was so drunk and dancing on the pole looking like a hot mess. But, what the hell! We decided to grab a drink. We didn't think we had that many options anyway. Then I noticed this back door which I assumed led to the bathroom. To my surprise, it was a dance floor packed with beautiful people dancing and raging to the dj's thumping beats. I guess I was wrong. San Juan was lit. And at this point, we aimed to catch up. We went barhopping until 4 a.m. ending up at Placita de Santurce. It was a small little center with bars and clubs the locals frequented. Contrary to what I assumed earlier, the night felt like it was never going to end.
   We got hungry in the middle of our rage. Luckily, we came across a bar that sold the best empanadas I've ever had. It was crispy on the outside and super warm and tasty inside.
  The next day, we nursed our hangovers at the beach in Condado.
  When it came time for dinner, I took Alayna to Old San Juan. My first time in Old San Juan was so magical 4 years ago. It reminded me of Barcelona and Madrid. It transports anyone who walks its cobblestone streets into a different time. Unfortunately, the hurricane did a number on Puerto Rico. Some of the businesses didn't survive. My favorite salsa bar Nuyorican Cafe was one of them. I was really bummed out. Live bands and dancing are some of my favorite things. The people that danced at Nuyorican Cafe are some of most talented salsa dancers I've come across.
  We had dinner at El Jibarito. We discovered it deep in the heart of Old San Juan. Alayna and I were so proud of ourselves for finding a restaurant tucked away from all the busy tourist traps. The ambiance felt genuinely Puerto Rican. The food was authentic. We were enjoying our dining experience. But then we started noticing that all of the patrons spoke mainland English and looked like tourists. Son of a bitch! Alayna was disappointed for sure. I wasn't surprised. We would have had to go inland to really get away from the tourists. Don't worry. The irony of us being tourists/travelers insisting on non-touristy things to do is not lost on us. lol
   The next day was my favorite part. We booked a snorkeling tour around Icacos island. It's a small uninhabited island just 30 minutes off of the Fajardo pier in Puerto Rico. What I love the most about it is that as our boat approached the island, there was this definitive line between the navy blue deep waters and the light teal blue shallow waters surrounding the beach. It's one of my most favorite places on earth.
  We had a chance to talk to Captain Robert and his shipmates Jeffrey and Danny about their experiences during the hurricane. Danny said he didn't know there were so many kids in his neighborhood. Because there was no electricity for their ipads, all the kids were playing outside with each other. Captain Robert said the hurricane brought his neighborhood together. They coordinated bbq's and get-togethers to eat, drink and maybe even for just one moment share a familiar smile. The hurricane was tragic, but they found strength through the bond of their families and communities.
  We also got the chance to go kayaking in the bioluminescent bay at dusk. I can't show you any pictures of the glowing organisms in the dark. It would've been stupid to bring my dslr camera, especially the way Alayna sways back and forth when paddling. lol. jk. She did great.
   On our last day, we had a full schedule planned. We were gonna visit two different caves, see Meredith in the city of Rincon and take a tour of the Bacardi distillery. But since we had an exhausting day the day before, we ended up sleeping in and not getting out of the airbnb until after 12pm.  Our vibe was pretty chill that day. Meredith was 2 hours away and only had an hour lunch break to hang out. The caves were 1 hour away. So Bacardi Distillery it was!!! It was located just outside of San Juan.  Besides, how could we turn down complimentary drinks?
  Full disclosure: I was having bouts of anxiety and panic attacks before my birthday trip. It started several months before and got worse as the big day came. Consciously, I thought I was fine. But I guess deep down inside I was afraid. Was it really because I was turning 40?
  I had it all planned out since I was 10 years old. I was going to be successful. I was going to have three dogs just like my childhood. I was going to use the gifts I was blessed with to inspire others and make oodles of money while doing it................. But sometimes, I abruptly stop in the middle of a New York sidewalk during rush hour, look around and ask myself "how the fuck did I get here?" And if you know me well, you know that I hate plan B's..... But I trusted the universe. Welcoming the plan B's and the detours my life has taken is a sign of maturity that I am willing to accept. 
                                                Wrinkles and receding hairlines, on the other hand, can stay away! For real!
  I get to travel the world, experience the music of different cultures and eat exotic food. But most importantly, I get to find things in common with people who grew up hundreds or even thousands of miles away. The greatest lesson I've learned so far is finding out that we're all one and the same. And if my plan B's get to help by contributing to the Puerto Rican economy the humble change I have in my pocket, we are all better for it.
  Thank you to everyone who graced us with their huge smiles and hospitality. Alayna and I had an amazing time. I couldn't have asked for a better 40th birthday trip. Until next time, live your best life Puerto Rico!;)
Meredith- I will come back for you. I'm sorry our stars didn't align....... this time;)xoxo